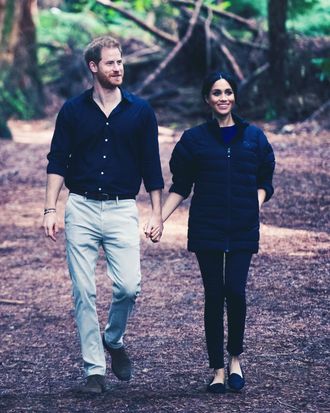 Prince Harry walking with Meghan Markle.
Photo: Pool/Samir Hussein/WireImage
Today, Meghan Markle and Prince Harry partook in the last event of their seemingly endless royal tour, during which the Duchess of Sussex sported her husband's puffy jacket through a stroll through a New Zealand forest. Most pronounced the sartorial decision as Very Cute, but others wondered if it was imbued with some sort of extra hidden meaning … Was it simply evidence of the couple's enduring love? Or a response to a purported "wardrobe malfunction" earlier in the day?
On Wednesday afternoon, the duke and duchess walked alongside more-than-century-old trees in Redwoods Treewalk Rotorua, where they held hands, gazed lovingly into each other's eyes, and talked about the "great" time they've had over the past 16 days. For the nature tour, Meghan wore Mother "Looker" skinny jeans, Birdies flats, and notably, Prince Harry's Norrøna Oslo jacket — the same one he wore just days earlier at Abel Tasman National Park in New Zealand. Wow.
Meghan did not start off the day wearing Prince Harry's clothes, though; in fact, she had a suspicious outfit-change right before the forest tour. Earlier in the day, when she was greeting fans in Rotorua, the duchess had on a pleated, royal blue Givenchy skirt that was fairly see-through — an incident that media outlets immediately branded a "wardrobe malfunction," but which looked honestly pretty cool. Although she changed out the skirt for her walk in the woods, she did keep on the matching Givenchy top she had been wearing.
So did Markle change outfits last-minute after facing criticism for her skirt, or was she planning on wearing something more comfortable for a walk through Redwoods Treewalk Rotorua? The forest is probably not the most Givenchy skirt–friendly of locations, but then again, duchesses must have different conceptions of what constitutes as a Givenchy skirt–friendly location. Whether Markle was embarrassed or jazzed about the skirt's sheerness, Harper's Bazaar does have a point: The "skirt moment" was "all too relatable."