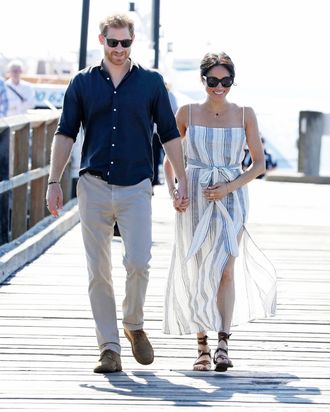 Prince Harry and Meghan Markle.
Photo: Kirsty Wigglesworth/AP/REX/Shutterstock
Over the weekend, it was revealed that Meghan Markle would be cutting back on some scheduled engagements during her busy 16-day royal tour of Australia, New Zealand, Fiji, and Tonga. The news wasn't surprising: the Duchess of Sussex is pregnant, hasn't had much time off since arriving down under one week ago, and even told people that pregnancy felt like "jet-lag," while her husband Prince Harry told others that being pregnant "takes its toll." So of course she deserves rest.
But on Monday (Australia time), Meghan emerged in a $218 Reformation dress to join Prince Harry on Fraser Island, where she put her hand on her lower torso while walking along a picturesque pier.
It's unclear exactly how far along Meghan is in her pregnancy; multiple outlets report that she's already had her 12-week scan (People, Daily Mail), while Us Weekly got more specific and said she was already around 15 weeks pregnant last week. Either way, the pregnancy is reportedly healthy and well, and Meghan's need for rest is apparently not cause for alarm, which is good news.
Despite telling the press on Saturday (U.S. time, but Sunday local time) that she would be taking some time to rest during the extensive royal tour, the duchess has still made it out to several appearances since then. She did not appear at a cycling race medal ceremony for the Invictus Games as had been scheduled, but she still appeared Sunday night at a reception hosted by Australia's prime minister. And although she ended up skipping some official appearances on Fraser Island with Prince Harry, she still popped out to hold hands with her husband and touch her lower torso (or as many are saying, cradle her "baby bump"). It's no banana bread, but still a wonderful gift for us all.