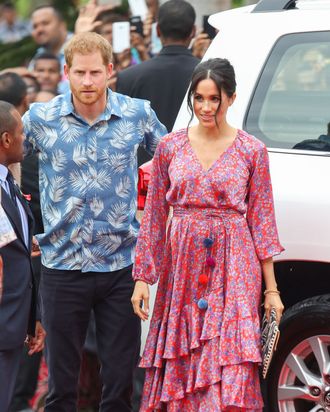 Prince Harry and Meghan Markle.
Photo: Chris Jackson/Getty Images
Meghan Markle gave her first speech as a royal in Fiji, where she and Prince Harry went as part of their tour of Australia, New Zealand, Tonga, and Fiji.
After watching a cultural performance about climate change, the Duchess of Sussex began her speech, which focused on education. It was fitting, since she and Prince Harry were visiting the University of the South Pacific in Suva, Fiji, according to People.
"Bula vinaka!" Meghan began. "As a university graduate, I know the personal feeling of pride and excitement that comes with attending university. From the moment you receive your acceptance letter to the exams you spend countless late nights studying for, the lifelong friendships you make with your fellow alumni to the moment that you receive your diploma, the journey of higher education is an incredible, impactful and pivotal one," she said.
"I am also fully aware of the challenges of being able to afford this level of schooling for many people around the world, myself included," the mom-to-be said. "It was through scholarships, financial aid programs and work-study where my earnings from a job on campus went directly towards my tuition — that I was able to attend university. And, without question, it was worth every effort."
"Everyone should be afforded the opportunity to receive the education they want, but more importantly the education they have the right to receive. And for women and girls in developing countries, this is vital," she continued. "When girls are given the right tools to succeed, they can create incredible futures, not only for themselves but for all of those around them."
Meghan Markle then announced a grant to support female educators at the university. She ended her speech with thanks on behalf of her and her husband.
"My husband Harry and I wish you all the very best of luck as you continue your studies and your work. Your efforts now will help to make a positive future for each of you and your communities at large."