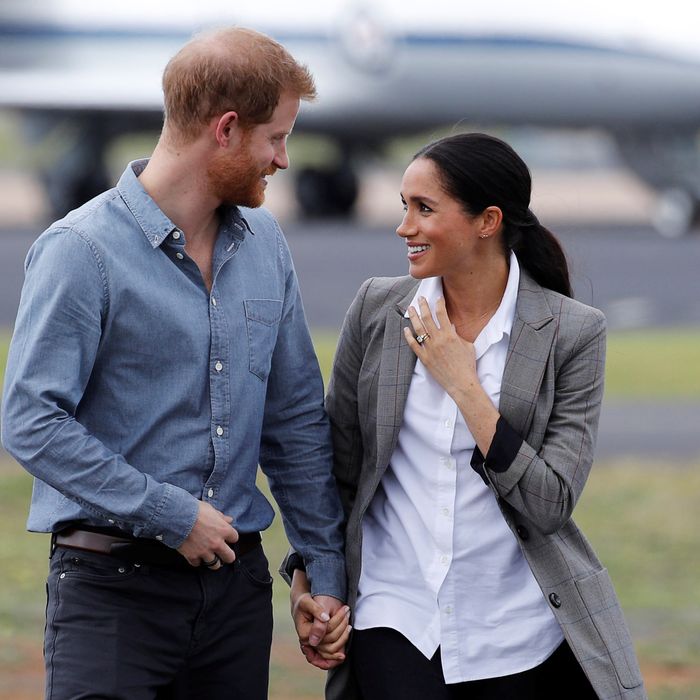 Prince Harry and Meghan Markle.
Photo: Pool/Getty Images
Meghan Markle and Prince Harry, the Duke and Duchess of Sussex, are currently on a busy 16-day tour of Australia and surrounding countries — but somehow, Meghan apparently found time to bake banana bread for farmers affected by a drought crisis in the region.
The parents-to-be (who only just announced Meghan's pregnancy on Monday upon their arrival in Sydney) kicked off the second official day of their royal tour with a flight to Dubbo, Australia. But the evening before arriving in Dubbo, Meghan did something you probably wouldn't expect from a) a presumably jet-lagged person, b) someone who is extremely busy wearing multiple outfits each day as she travels across various countries meeting countless people, or c) a duchess: Meghan baked banana bread.
As seen in tweets from the Daily Mail's Rebecca English, Meghan brought her homemade bread to Dubbo on Wednesday (Australia time, it's confusing). The bread reportedly had chocolate chips and ginger, "went down well," and was "rather nice."
But before Meghan (who was clad in a casual ensemble that included a gray blazer designed by her friend Serena Williams) could even drop the bread off to its intended recipient, she and Prince Harry took some time to greet the locals — and hug a child, of course.
Eventually they brought the bread in question to a farm in the region. There, they spoke with local farming families about their experience dealing with the drought. Then they did some work on the farm …
… and stared adoringly at another child.
With the rest of the visit to Dubbo projected to involve a community BBQ, we can only expect even more wholesome moments from these two.