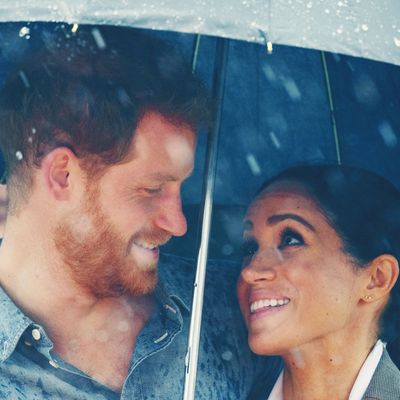 Look at them under a freaking umbrella.
Photo: Rex/Shutterstock/WireImage/Getty Images
If there's one thing to know about Meghan Markle and Prince Harry (other than the fact that they are royal), it's that they both love PDA. It seems that the parents-to-be can't walk out of the house (erm, I mean palace) without holding hands, touching each other's arms or backs, putting their heads on one another's shoulders, hugging, and doing other things that are constantly caught by photographers and subsequently keep us warm at night.
We aren't knocking their PDA — if anything, we'd like to see more please! — but Meghan and Prince Harry's constant affectionate touching is quite a departure from other members of the British royal family. Case in point: Kate Middleton lightly touched Prince William's inner thigh for a moment at Princess Eugenie's recent royal wedding, and the Earth stopped spinning, time stood still, etc., because they basically never touch in public.
But anyway, it should come as no surprise that the affectionate duo have taken their PDA on the road during their 16-day tour of Australia, New Zealand, Tonga, and Fiji. They started out holding hands (while she also held onto some binders) at the airport in Sydney.
Then she touched his freaking arm at an event, sending flames of passion across the universe.
Oh look, here they are gazing adoringly at each other and holding hands as they walk down some stairs.
And when they went to a zoo, the lovefest simply continued on, despite the presence of a zoo worker.
Later, they took another plane, which seemed to be the perfect way for them to hold hands in yet another location.
And check them out under the umbrella.
And of course, they also brought their PDA with them to Melbourne. Look at them with their arms around each other. Please. Just look.
While you're at it, check out those dang hands.
And here they are, just gazing into each other's eyes (again) as they sat in an "anti-bad vibes" circle on the beach. We can't even!!!
Excuse us, we need to be alone for a while.
This post has been updated.