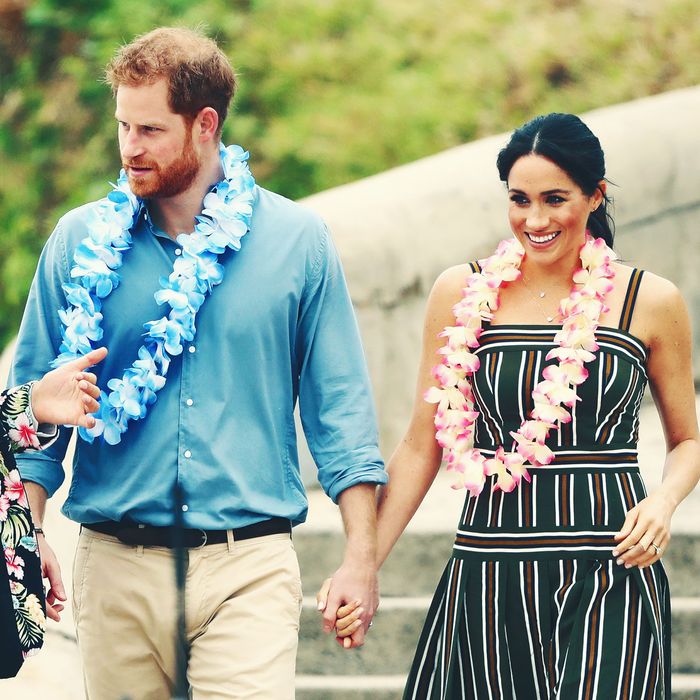 Prince Harry and Meghan Markle en route to their circle.
Photo: Ryan Pierse/Getty Images
On Friday morning, Australia time (or Thursday evening, U.S. time), Prince Harry and Meghan Markle made some time in their royal tour schedule to bring us a moment of Zen. By that I mean, they sat in an "anti–bad vibes" circle on the beach.
The parents-to-be kicked off day four of their official tour of Australia, New Zealand, Tonga, and Fiji at Bondi Beach, where they devoted the morning to raising mental-health awareness. (They work extensively on the issue with Kate Middleton and Prince William on their Heads Together initiative at home in the U.K.) Meghan and Prince Harry joined the OneWave collective's Fluro Friday Sunrise session to hear its members' mental-health stories (and apparently wear leis).
Much to our delight, the Sunrise Session involved sitting in an "anti–bad vibes" circle — per the Daily Mail's Rebecca English — and wearing extremely bright-colored clothes. Prince Harry stuck to conservative khakis and a nice blue top, while Meghan wore a Martin Grant sundress, but the rest of the group wore neon, spandex, and extreme florals. And when the couple got to the circle, they were greeted by members doing yoga.
Suffice it to say, the pictures of the royals with the group are extremely soothing and are helping to momentarily ease the anxiety that constantly pulses through my veins. Just looking at them reminds me to breathe in …
… and breathe out.
What a beautiful and relaxing gift we have all been given. Namaste.