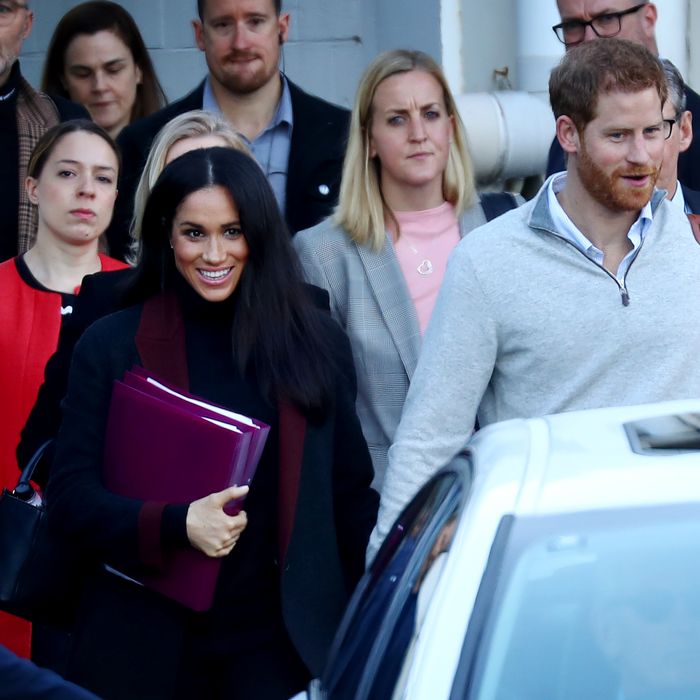 Meghan Markle (with binders) and Prince Harry in Sydney.
Photo: Newspix/Newspix via Getty Images
Meghan Markle and Prince Harry are expecting a baby in the spring of 2019, Kensington Palace has announced. Congratulations to us all!
"Their Royal Highnesses The Duke and Duchess of Sussex are very pleased to announce that The Duchess of Sussex is expecting a baby in the Spring of 2019," Kensington Palace said in a social-media statement. "Their Royal Highnesses have appreciated all of the support they have received from people around the world since their wedding in May and are delighted to be able to share this happy news with the public."
So we know what you're thinking: what's the deal with this baby? What do we know so far? What is the royal baby's name going to be? Will anyone at the Cut be named as the baby's godparent? Will the baby close its own car doors? Luckily, we have answers to every pressing Sussex royal baby question you may have.
First things first, please go through the timeline of Meghan Markle and Prince Harry's love. Sure, but let's keep this brief. The former Suits star and ex-dubious-decision-making prince met when they were set up on a blind date in London in July 2016 at their favorite place in the world: the private, members-only club of Soho House, frequented by socialites and other fancy people. Their relationship went public in October 2016, they held hands a lot, their engagement was announced in November 2017, they held hands more, and then they married in May 2018 and made a baby.
Fantastic. Did we have any idea that a baby was in the cards for this couple? Why, yes! We did know this, because every tabloid, royal reporter, and even Meghan Markle's messy dad told us they wanted to have a kid basically yesterday. These rumors started even before the couple's royal wedding in May. Then, back in June, we heard they that they were going to start trying soon, and just last week, we heard from Us Weekly they were working on it now. (Obviously that report was wrong, sorry.)
So, how far along is Meghan's pregnancy? All we know at the moment is that Meghan has already had her 12-week scan, so she's probably out of her first trimester.
When is Meghan Markle due? Excuse me, we already said "spring 2019" at the very top of this report, were you not reading? But it's a lot of information to process, we know, so we understand if you forgot. For what it's worth, if you are reading this website, we assume you are probably someone who already knows when spring is — which we can't say for the rest of society, as The Guardian points out. (If you do not know, we are not going to tell you. This is information you should know.)
Does Meghan Markle have a baby bump yet? When the couple emerged from the airport on Monday, everyone noticed something peculiar: Meghan was holding binders in front of her stomach (see the photo way above). Hmmm. Binders. Suspicious. And shortly before that, at Princess Eugenie's wedding to Jack Brooksbank, she was wearing a loose Givenchy coatdress. Hmmm. Loose coatdress. Also suspicious.
You could have just thought she was studying and/or being cold but no, it turns out, she was doing probably both of those things in addition to hiding a burgeoning baby bump. It's almost as if she, as a trained actress and former USA Network star of Suits, knew exactly how to hide her pregnancy from the cameras.
What are the top picks for the royal baby's name? At the moment, bookies are saying the baby will likely be named Prince James, for a boy, or Princess Victoria, for a girl. However, the Cut's Kelly Conaboy has put an interesting suggestion into the mix: Kelly, a name for a boy or girl. We think that would be a great idea for Meghan and Prince Harry to at least consider.
What will the baby's position in relation to the throne be? The current line to the throne is as follows: 1) Prince Charles, 2) Prince William, 3) Prince George, 4) Princess Charlotte, 5) Prince Louis, and 6) Prince Harry. So that means the royal baby will be seventh in line to the throne.
Who will the baby's godparents be? Your guess is as good as ours, but currently every single staff member of the Cut is available for godparent duties, so long as they are not time consuming, we're very busy. But other than Cut staffers, we assume Meghan's best friend and stylist Jessica Mulroney will at least somehow be involved with the child's spiritual guidance.
Will the baby be as elusive as Prince Louis? Honestly, we have no idea what the baby will be like since it is not yet born, but we can only assume the baby will be a rebel like its mom and close car doors on its own.
What were Meghan Markle and Prince Harry doing when we found out about our shared baby? The news of our new communal royal baby that we will all raise and love together was announced on Monday morning (extremely early in the U.S.), several hours after Meghan and her ginger husband landed in Sydney for their official tour of Australia, New Zealand, Tonga, and Fiji, timed for Prince Harry's Invictus Games. Unsurprisingly, the Daily Mail says they were holding hands right in Sydney before the announcement — how them of them.
How long has the royal family been keeping this secret from us? Don't feel bad for being kept in the dark about the pregnancy. First off, it's normal not to reveal a pregnancy straight away, it's a very private thing. And secondly, the British royal family was only reportedly told on Friday at Princess Eugenie's wedding, so it's not like the family has known for weeks and have rudely kept it a secret from us or something.
We are so excited for the royal couple, but also for ourselves.
This post has been updated throughout.
Update: The royal baby is here!