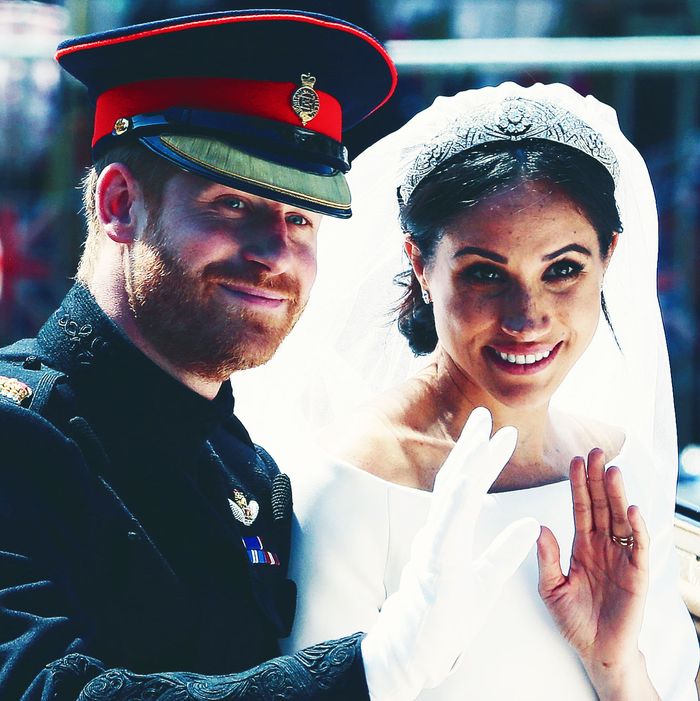 Prince Harry and Meghan Markle.
Photo: AARON CHOWN/AFP/Getty Images
For the first time since their ceremony in May, Meghan Markle and Prince Harry are revealing previously unknown details about their royal wedding — most interestingly, the one thing that didn't quite go according to plan.
In a prerecorded interview that's playing at the just-opened exhibition A Royal Wedding: The Duke and Duchess of Sussex in Windsor Castle, where Meghan's boatneck Givenchy wedding gown by Clare Waight Keller is on display through January 6, the Duke and Duchess of Sussex open up about the last-minute issues they had with Meghan's bouquet, royal expert Katie Nicholl reports for Vanity Fair. Because of a frustrating cold snap in April, there weren't as many flowers, which forced the couple to get creative.
"We have a very small garden here that we had been planting things in the fall for and what was really special, I think, was that the morning of the wedding, Harry went in and he picked some flowers to go into my bouquet, which was really beautiful and something that makes it sentimental and really meaningful," Meghan says in the voiceover, after which Harry chimes in, "We didn't have as many flowers in our little garden as we had hoped for because I think it snowed at Easter! That kind of ruined the whole thing!"
Thankfully, Meghan had no problems with her wedding dress or tiara, she says in the interview, and Prince Harry is still proud of himself for picking out Handel's "Eternal Source of Light Divine," to which Meghan walked down the aisle.
"I was looking for something completely different and ended up stumbling across this piece of music," he says. "Something that epitomizes the whole day, the whole feeling that I have for her, and this incredibly impactful music with no organ whatsoever, with a soloist who actually did the most incredible job, to the orchestra. And now, both of us, wherever we are, whatever we're doing, we can close our eyes, listen to that music and take ourselves straight back to that moment. It's a beautiful thing for both of us."