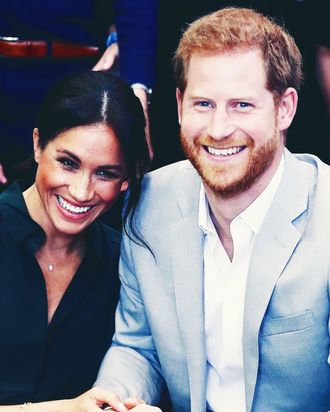 Markle, Prince Harry.
Photo: Chris Jackson/Getty Images
Well, it seems Meghan Markle and Prince Harry are having a baby. Some people crave the spotlight and will do whatever it takes to maintain it: get married, close a car door, have a baby, be on Suits. Do we, their public, not deserve a moment's rest between occasions? Apparently we do not. It's Meghan Markle and Prince Harry's world and, alas, it is our job to follow their whims wherever they take us. This time they've taken us to a baby and, more specifically, they've taken us to months of guessing what that baby's name will be.
Katie Baylis, spokesperson for betting website Betfair, spoke to Express about the odds:
"At this stage Diana, Arthur and Alice, which was favourite at different stages for Kate and William's babies, are the 12/1 front runners. 




However, with months until the baby is born, those odds will shorten, change and other names will come to the forefront, so watch this space."
Interesting, interesting — of course we will all watch this space with bated breath for the majority of the next year. Betting website Coral has James as the seven-to-on favorite, according to their spokesperson Harry Aitkenhead:
"Our betting market has Prince James or Princess Victoria as the most likely additions to the Royal family at the moment, with James just favoured as the 7-1 market leader." 
James or Victoria, sure — slightly boring, but such is life. IrishCentral asks, "Could Meghan Markle and Prince Harry's baby have an Irish name?" Huh. A good question from IrishCentral. Here's some more of what they say:
"Here at IrishCentral we could help but hope that the Royal couple might choose an Irish name for their baby who's due in spring 2019, giving Markle's Irish roots and the fact that the couple visited Dublin in July 2018, just two months after their wedding."
Compelling evidence to suggest Meghan Markle and Prince Harry will give their baby an Irish name. But which Irish name will it be? Here is what Kelly Conaboy had to say at the Cut:
"They should name the baby Kelly. It works for either a boy or a girl and it means 'aggressive.'"
Interesting, interesting. And now we wait!