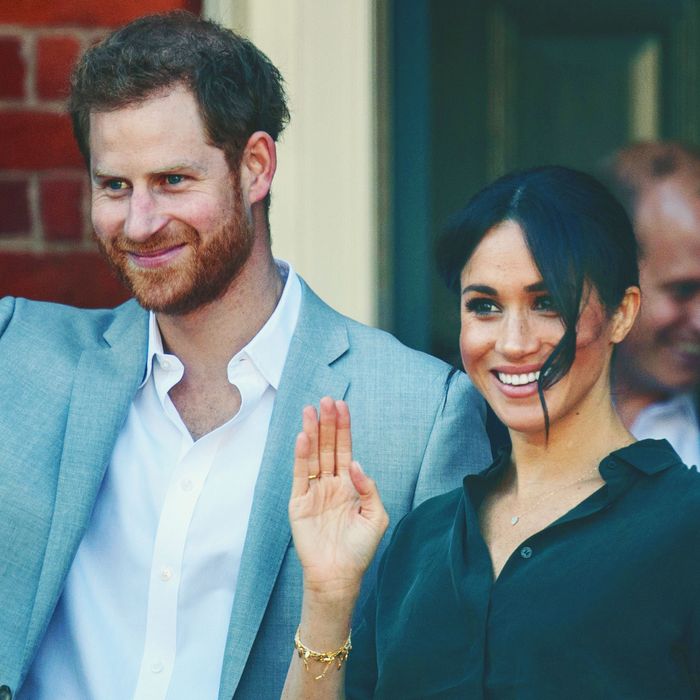 Prince Harry and Meghan Markle in Sussex.
Photo: Tim Rooke/REX/Shutterstock
On the occasion of their royal wedding, Prince Harry and his door-closing wife Meghan Markle were given a great gift from her best friend, Queen Elizabeth: the extremely fancy titles of the duke and duchess of Sussex. Now, on Wednesday, the royal couple finally made their first official visit to Sussex, England, the place they will forever be associated with.
Before we go on, I know what you're thinking: How can Meghan and Prince Harry even be the duke and duchess of a place they had never officially been to before in a royal capacity? Well, luckily, I looked that up.
Basically, the queen gave Prince Harry a dukedom as a wedding gift. She did the same for Prince William when he married Kate Middleton (which is how they became the duke and duchess of Cambridge); it's just a traditional wedding gift for male senior royals. The Guardian notes that there are only a few "suitable" dukedoms in supply, and that most of the good ones were already taken. But Sussex is a good one to have apparently: The only previous duke of Sussex was Prince Augustus Frederick, and he died back in 1843.
Anyway, it seems like the royal couple had a lovely time in Sussex. They met their loyal Sussex residents, did a walking tour of the city, visited some historical spots, and signed a guest book. Beyond that, they looked extremely Ready for Fall, with Prince Harry in a blazer and pants and Meghan in a (sold out) Giorgio Armani cashmere coat; a $99 dark green shirt by & Other Stories; a $595 BOSS green pencil skirt; beige, suede $375 Stuart Weitzman heels; and a green $1,995 bag by Gabriela Hearst.
Welcome to your title home, Meghan and Prince Harry!