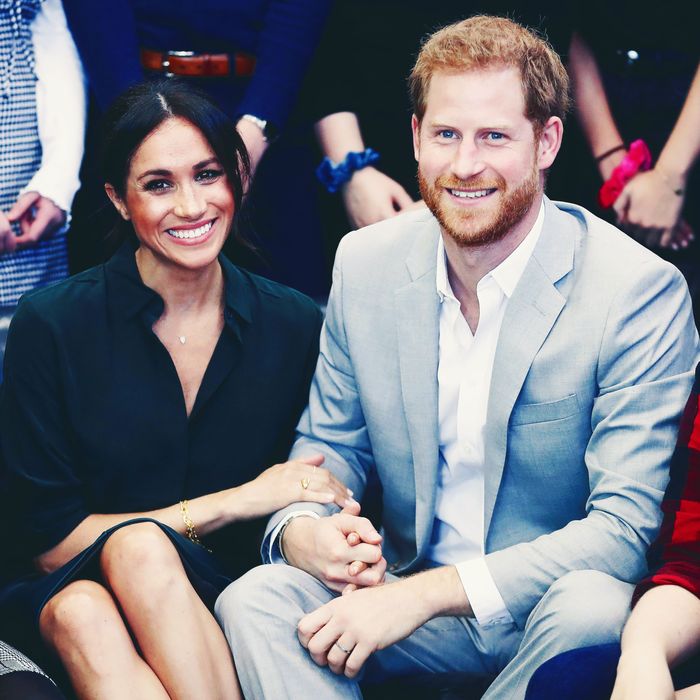 Meghan Markle and Prince Harry.
Photo: Chris Jackson/Getty Images
Meghan Markle and Prince Harry have been open about wanting kids — or rather, the tabloids (and Meghan's messy dad Thomas Markle Sr.) have been nonstop reporting that they are yearning for a baby since even before the May royal wedding. But now, according to a new report in Us Weekly, the couple might actually be trying to make that happen soon.
A "source" (who?!) told Us Weekly that Prince Harry and Meghan are "trying for a baby." The mysterious source also said, "They both want a big family, at least three kids," and that Meghan is "starting to feel more settled" in her new role in the royal family.
Us Weekly also reported back in June that couple wanted kids pretty much yesterday and that they were planning to start "trying" soon, so the timing checks out (if this is true). But after Princess Eugenie's Friday wedding to Jack Brooksbank, Meghan and Prince Harry are set to embark on a tour of Australia (as Prince Harry's Invictus Games will be held this month in Sydney), New Zealand, Tonga, and Fiji for a few weeks. So they are going to be quite busy with that — which is not to say they will be too busy to "try" on their trip, just that they may also be jet-lagged and preoccupied with their actual work and sightseeing, so no pressure at all.
That said, we would absolutely love for a new elusive (lol) royal baby to enter the picture, so we wish them all the best as they reportedly "try."