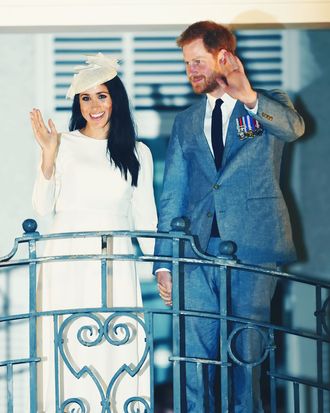 Meghan Markle and Prince Harry waving good-bye to our USA tour dreams.
Photo: Karwai Tang/WireImage/Getty Images
I'm so sorry to have to do this, but I need to share some difficult news with you: America's daughter Meghan Markle of California has had to delay the homecoming USA tour that she and her ginger husband Prince Harry were set to embark on in the spring of 2019, TMZ reports. But at least we can take some solace in the duchess of Sussex's decidedly good excuse: that's right around the time Meghan is expected to give birth to her first royal baby.
It was first reported back in July that the newly married royal couple would be heading stateside for a tour. At the time, an "insider" (who?) told Us Weekly, "They are so excited to head to the U.S. Meghan is looking forward to introducing Harry to everything she loves about the U.S." The tour would reportedly include stops in New York (where the Cut is based, probably not coincidentally), Washington, D.C., California, and also maybe Chicago (where she went to school) or Canada (where she shot Suits).
But once Meghan and Prince Harry embarked on a different tour — you know, the tour of Australia, New Zealand, Fiji, and Tonga that they're currently on — the couple announced they were expecting a baby around the very same time as that USA tour was supposed to happen. Now, on Tuesday, TMZ reported that the tour needed to be pushed back. Per TMZ:
We're told she's due sometime in the Spring, and they want to give her time to adjust to motherhood before hitting the road again.
So never fear, the tour will reportedly still happen — just a few months later, in the fall of 2019. Luckily we have some great fall activity ideas for them.