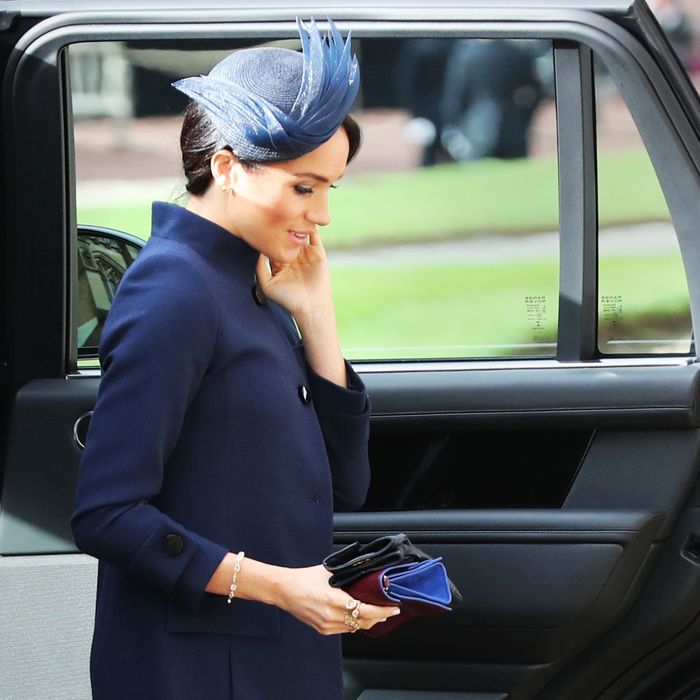 Meghan Markle at Princess Eugenie's wedding.
Photo: Gareth Fuller/Getty Images
Friday may have been Princess Eugenie and Jack Brooksbank's big day, but all eyes at the (windy) wedding were on the British royal family's newest member, Meghan Markle. And luckily for the newly-married couple, the Duchess of Sussex (and former Suits star) played the role of royal wedding guest perfectly.
Meghan and her ginger husband, Prince Harry, were driven up to St. George's Chapel at Windsor Castle (the very same location as their May royal wedding) by car — forgoing the trying experience of having to walk down the extremely breezy path with the other wedding guests. Once they exited their vehicle, however, we were blessed with views of Meghan's very first royal wedding guest outfit.
Meghan wore a perfectly sophisticated navy coatdress by Givenchy (which, coincidentally, was the designer of Meghan's own wedding dress) and a matching navy hat by Noel Stewart. The outfit was classic and chic, but subtle enough so that she didn't take any (more) attention away from the bride. She and Prince Harry then quickly entered the church and sat in the pews next to Kate Middleton and Prince William, as well as Princess Anne, with whom Meghan was seen chatting and laughing.
After the ceremony, however, Meghan and Prince Harry opted to forgo their fancy car and instead use their legs, as they walked along the wind tunnel of a path rest of the royal family. The pair was seen holding hands (per usual) while walking next to Prince Charles.
All in all, we'd say Meghan made for an ideal royal wedding guest.