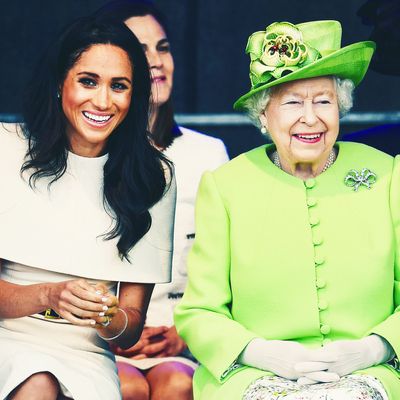 Meghan Markle, hat-less, and Queen Elizabeth, in a hat.
Photo: Jeff J Mitchell/Getty Images
In June, just one month after her royal wedding to Prince Harry, Meghan Markle went on a nice road trip with her new grandmother-in-law, Queen Elizabeth II. The gals appeared to have the best time: They took an overnight train, were photographed laughing together, and had big smiles nearly the entire time. But it turns out, there was some drama behind the scenes. By that we mean, the queen wore a green hat and reportedly thought maybe Meghan might wear one, too … but she did not.
According to the Daily Mail, Queen Elizabeth's aides had been instructed to tell Meghan that the queen would be wearing a green hat during their trip, to honor the victims of the devastating Grenfell Tower fire. Meghan apparently thought she was merely hearing some information; she did not realize that the queen's aides were passive-aggressively telling her to wear a green hat, too. I assume that's because they never explicitly said as much.
"I don't think the Duchess fully understood," an anonymous "senior figure close to the queen" told the Daily Mail. "This was not a request. They are for others to make, not the queen."
So while Queen Elizabeth thought their outing would look like this (but green):
It instead looked like this (with Meghan's hat-less head and perfect hair on display for all the world to see):
Luckily, the Daily Mail reports that while the queen was a "little baffled" over Meghan's lack of hat, they still overcame this drama — and became even closer as a result. This is apparently in large part thanks to Meghan's love of dogs, because there are few things the queen loves more than dogs (except perhaps horses). So it seems like the queen is forgiving of hat-related snafus as long as you are royal and love dogs.
But what would Meghan's green hat have looked like, if she had worn a green hat to the event? Acclaimed computer artist/Cut writer-at-large Kelly Conaboy made a rendering of such a hat for reference. ("I added a green flower because I think it would look nice on Meghan," Kelly explained.) See for yourself below:
Ah, what could have been.