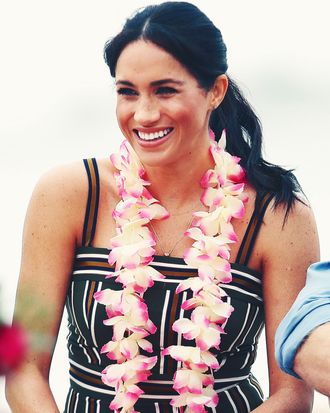 Meghan Markle.
Photo: Chris Jackson/Getty Images
Meghan Markle and Prince Harry may already be planning where they want to raise their future children, but in the current moment, the Duchess of Sussex is simply trying to push through her pregnancy side effects. Sky News reports during her royal tour in Australia, Markle opened up to a local about what her body is going through, saying that being pregnant "like having jet lag."
On Friday morning in Australia, locals swarmed Bondi Beach to meet Meghan Markle and Prince Harry on their royal tour, which they're dedicating to mental-health awareness. There, the couple participated in an "anti–bad vibes circle" and met some of the locals, one of whom Meghan apparently befriended.
Charlotte Waverely, 35, told Sky News that she and Meghan got on the subject of her pregnancy after meeting both her and Prince Harry, during which the Duchess reportedly told her, "Pregnancy was like having jet lag."
To pass the time after waking up at a very early hour, Markle turned to one of her favorite workouts — an extremely impressive way to deal with an annoying temporary sleep disorder.
"She said she was up at 4:30 a.m. this morning doing yoga in her room as she couldn't sleep," Waverely told Sky News.
While the world only learned of Markle's pregnancy earlier this week, the Duchess has already had her 12-week scan, so she's probably out of her first trimester; the royal baby is expected to come in spring 2019.
Update: The royal baby is here!