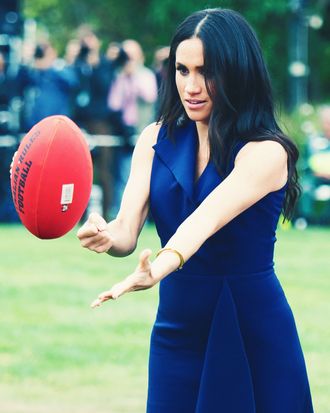 Meghan Markle in Melbourne.
Photo: Samir Hussein/WireImage
Mom-to-be Meghan Markle is currently on an official royal tour in Australia, where she has been able to partake in her true passion (other than nonstop PDA with her husband, Prince Harry): being sporty in decidedly non-sporty footwear.
On Thursday (Australia time, who knows when it was in America, help, this time difference is killing us), Meghan and Prince Harry flew from Sydney to Melbourne for a full day of royal events, ranging from greeting adoring fans (the ginger prince was even serenaded by a choir as he shook hands) to walking in business attire on a beach in front of their loyal fans.
The day also included a stop at an event encouraging women to pursue sports, which allowed the former Suits star's athletic skills to (momentarily) shine. Mirroring a September event in which Meghan threw a ball while wearing Aquazzura's "Simply Irresistible" 105 Black Pumps, the duchess rocked some heels (this time, pumps by Manolo Blahnik) as she threw yet another ball in Melbourne. You can see the moment below in video shared by royal correspondent Emily Andrews.
On top of that, the Duchess of Sussex also witnessed balls being thrown in her general vicinity, as seen in the picture below. She seemed impressed.
The sports interlude was part of the couple's third official day of their 16-day tour of Australia, New Zealand, Tonga, and Fiji. Prior to their trip to Melbourne, Meghan Markle held a bunch of binders (well, two), baked some banana bread for farmers affected by a drought, and gazed lovingly into her husband's eyes as they stood under an umbrella together.