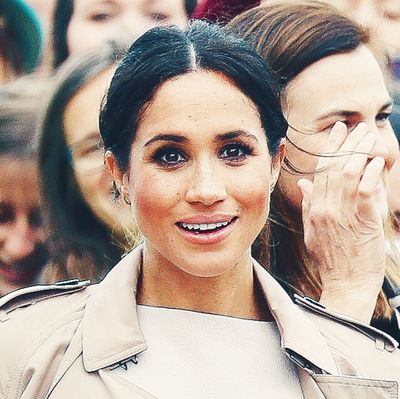 Meghan Markle.
Photo: Chris Jackson/Getty Images
During a Tuesday walkabout in Auckland, New Zealand, Meghan Markle, the duchess of Sussex, was greeted by something … familiar … from her past: the theme song of USA Network's Suits.
Meghan starred on Suits for seven years before becoming a member of the British royal family. I know this, you know this, and I'm confident her role as Rachel Zane, the paralegal-turned-law-student love interest, will be chronicled in history books (or rather, historical Wikipedia pages) for centuries to come. After all, Meghan was still working on the show when she met Prince Harry, her co-stars rudely knew about the royal romance before the rest of us, and it was reported last year that royal wedding staff were instructed to watch the show before the nuptials.
In video shared on Instagram, Meghan — clad in a Brandon Maxwell dress and Burberry trench — and Prince Harry were met by a marching band playing the show's theme song as they embarked on the walkabout. Entertainment Tonight notes the theme is the 2010 song "Greenback Boogie" by Ima Robot. The lyrics to this song include lines like "I want a bean pie / Order me a bean pie / I'll even eat a bean pie, I don't mind."
According to People, the whole thing was a (failed) scheme to get Meghan's attention, concocted by local radio station The Edge. In the video (and in People's opinion), Meghan doesn't appear to acknowledge the song, and continues on her royal way. We can only hope that at the very least, the song brought back fond Suits-related memories for her.