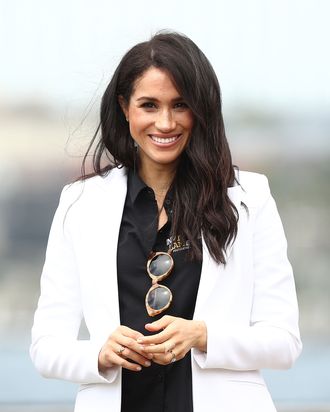 Meghan Markle.
Photo: Mark Metcalfe/Getty Images for the Invictus Ga
Meghan Markle will be taking some breaks from scheduled appearances during the royal tour of Australia. The Duchess of Sussex announced her pregnancy the day before the tour kicked off. On her sixth day of the tour, she shared that pregnancy "felt like jet lag."
According to People, Meghan skipped out on the road cycling portion of the Invictus Games on Sunday morning. A source released a statement to several UK outlets that "after a busy programme, the Duke and Duchess have decided to cut back the Duchess's schedule slightly for the next couple of days, ahead of the final week and a half of the tour."
Prince Harry attended the Sydney event alone, shaking hands with athletes and speaking to the press. He confirmed that his wife was taking the time to rest. Saying that she "resting back at home," and adding that "Being pregnant takes its toll."
Meghan will still attend other scheduled appearances, including traveling to Fraser Island and going to a reception hosted by the Australian prime minister.
Check out our official updates on the birth of Meghan Markle and Prince Harry's royal baby.