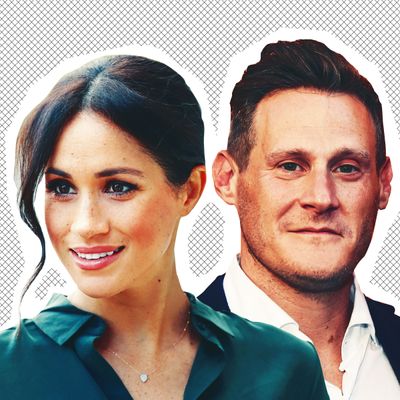 Meghan Markle and Trevor Engelson.
Photo: Getty Images
Years before Meghan Markle wed Prince Harry, she was married to a different man: Trevor Engelson, a producer in Los Angeles. Meghan and Trevor divorced in 2013 after two years of marriage, and he later tried to make a petty TV show about a man whose ex-wife marries a royal (how classy), and he also went on a date with Bethenny Frankel. But now, Trevor has achieved something else: He got married again.
According to the Daily Mail, Trevor married nutritionist Tracey Kurland in Southern California over the weekend. Trevor and Tracey got engaged just two weeks after Meghan's royal wedding, naturally. He announced the news on social media in June, with a picture of his smiling wife-to-be resting her diamond ring on his shoulder. "Luckiest guy I know!" Trevor wrote in the (private) caption. "Get ready to party!"
Trevor and Tracey reportedly got married in front of family and friends at a private residence in Hidden Hills, a suburb of Los Angeles favored by celebrities. The Daily Mail notes that her parents live in the area, but it's unclear whether the nuptials went down at their abode. Some pictures from the wedding (taken from Instagram but published by the Daily Mail) — including shots of Trevor and Tracey posing and dancing together — can be seen here.
Meghan and Trevor started dating in 2004 and were wed in Jamaica in September 2011. They separated in August 2013, when Trevor was still based in Los Angeles and Meghan was living in Toronto to shoot Suits. "Sources" blamed distance for their split. Meghan moved on by dating Canadian chef Cory Vitiello before meeting Prince Harry in July 2016; Trevor later moved on by developing a TV comedy show about a person whose ex-wife marries a British prince (though he temporarily scraped plans for the show), and then by getting engaged right after his ex-wife's high-profile wedding. So happy for them both.