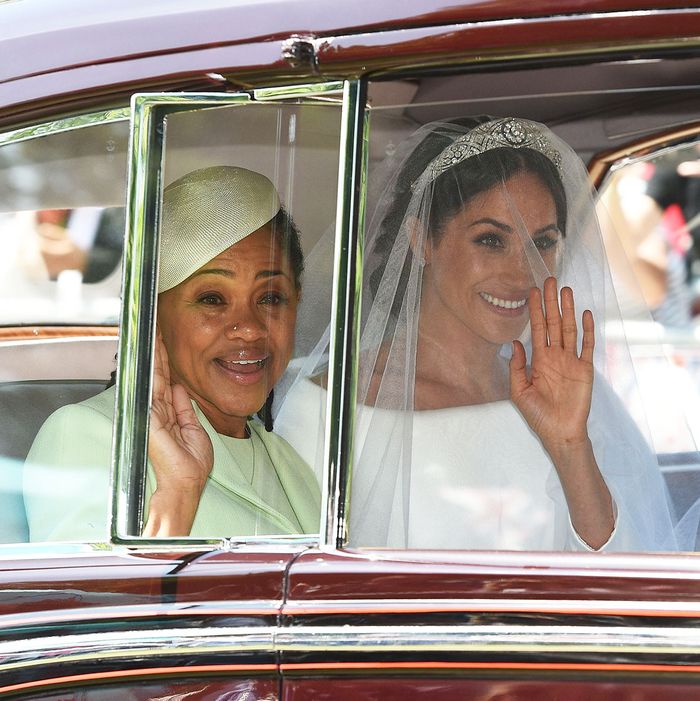 Doria Ragland and Meghan Markle.
Photo: OLI SCARFF/AFP/Getty Images
Here is a nice story. Doria Ragland, mother of Meghan Markle and friend to Oprah Winfrey, reportedly brought snacks to Oscar de la Renta designers Laura Kim and Fernando Garcia while they were fitting her for her mint-green royal wedding ensemble. This sounds very sweet, and also savvy, because it's probably a good idea to get on the good side of the people who will be dressing you for one of the biggest media events of the year.
Kim and Garcia told the website Buro Middle East that Markle's assistant was the first to reach out to them, and told them that while Markle's wedding gown would be made by another designer (Givenchy), she still wanted an American designer represented at the royal wedding. The duo agreed to design a look for Markle's mother, and then flew out to L.A. to meet Ragland, who they say brought snacks to the fitting.
"She's so sweet. Her snacks were so cute, too," Kim said.
"They were healthy snacks, because she's a runner," Garcia clarified.
"Yeah, it wasn't like cookies," Kim agreed. "It was very thought-out."
I will say, "cute" snacks do not always translate to "delicious" snacks, especially when they're not "cookies." In my experience, healthy snacks often mean dried out zucchini bread and unsalted almonds. I have faith in Ragland, though, especially given that she raised a daughter who places such high value on good food. And even if her snacks were dried out zucchini bread and unsalted almonds, it still would have been a very nice gesture.