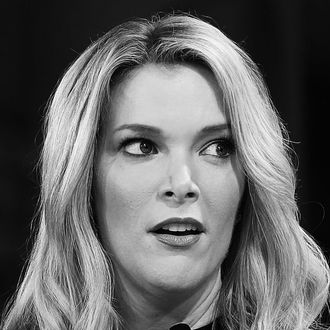 Megyn Kelly.
Photo: Phillip Faraone/Getty Images for Fortune
Megyn Kelly has landed in big trouble with NBC this week amid backlash over her defense of dressing up in blackface. In a company-wide meeting on Wednesday, NBC News chairman Andy Lack decried Kelly's comments, and praised her colleagues Al Roker and Craig Melvin for calling her remarks "ignorant" and "racist." Now, those at the network expect that her Today hour will be over by the end of the season, according to The Hollywood Reporter.
Kelly made the remarks during her Today hour on Tuesday, asking, "What is racist" about a white person donning blackface for Halloween? She continued, "You do get in trouble if you are a white person who puts on blackface for Halloween, or if you're a black person who puts on whiteface for Halloween."
Her comments were met with immediate backlash online, and within the network. Early Wednesday morning, Al Roker said on Today that Kelly "owes a bigger apology to folks of color around the country" and that "no good comes from" blackface. Craig Melvin called her comments "ignorant" and added, "She said something stupid, she said something indefensible." He went on to call Kelly a "colleague and friend," according to People. Kelly then issued an on-air apology during her Today hour on Wednesday.
But the damage had apparently been done. During the company-wide meeting, Lack spoke out against Kelly's remarks. (For context, Lack reportedly spearheaded Kelly's move to the network from Fox News with a three-year contract worth a reported $69 million). Per The Daily Beast:
"There is no other way to put this, but I condemn those remarks," NBC News Chairman Andy Lack said at a town hall meeting on Wednesday, according to a transcript provided to The Daily Beast by a source. "There is no place on our air or in this workplace for them. Very unfortunate."
During the meeting, Lack also reportedly praised Today for doing an "excellent job" covering her remarks. "I thought Craig and Al brought a thoughtfulness and a context to it that was sorely missing and they really did this company company and our audience a real public service," he said.
It's unclear what this means for Kelly at NBC. The New York Times reports that the fate of Kelly's show was "up in the air" before the Wednesday meeting, as she has offended celebrity guests, including Jane Fonda, and failed to achieve high ratings. But now, The Hollywood Reporter cites a source reporting that Kelly had already met with network executives about ending her show in order to transition to political reporting prior to the controversy. She is now reportedly expected to end her show by the end of its current season.