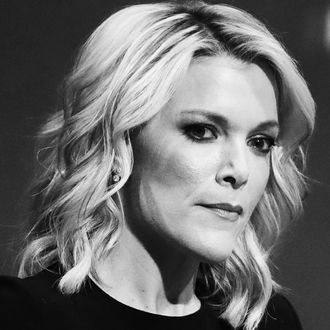 Megyn Kelly.
Photo: Mikhail Metzel/Getty Images
Megyn Kelly is in big trouble with NBC after defending blackface on her Today hour, but it remains unclear to what extent. On Friday, NBC confirmed that it was canceling Megyn Kelly Today, but it's unclear whether she will be leaving the network.
The official cancellation of Kelly's Today hour came after both the Daily Mail and "Page Six" reported on Thursday that Kelly is out at the network; according to the Mail, she and NBC are negotiating whether she will be paid out the remainder of her $69 million, three-year contract following her termination. According to a later report on Thursday from People, however, Kelly has not been "fired completely," though two sources told the outlet her morning show had canceled.
During the Tuesday segment on Megyn Kelly Today, she asked, "What is racist?" about white people wearing blackface for Halloween. "You do get in trouble if you are a white person who puts on blackface for Halloween," she lamented, "or if you're a black person who puts on whiteface for Halloween."
Her comments sparked immediate backlash. Many people took to social media to decry her statements, and her Today co-workers publicly lambasted her remarks on air Wednesday morning. She had initially apologized via email on Tuesday to her co-workers — writing that she had never been a "pc" person — but longtime Today host Al Roker said on Tuesday that she "owes a bigger apology to folks of color around the country." Today's Craig Melvin also called her comments "ignorant" and said on-air, "She said something stupid, she said something indefensible."
She faced internal backlash, too; also on Wednesday, NBC News chairman Andy Lack publicly condemned her remarks in a company-wide meeting and praised the Today team for taking her to task. "There is no place on our air or in this workplace for them," he said of Kelly's comments. That night, reports began to emerge that Kelly's show would end by the close of the season, and by Thursday, CNN reported that she would be off the air for the rest of the week — and that it was unclear whether she'd return to NBC at all.
Kelly's time at NBC had been marked by scandal even before the blackface controversy arose. The former Fox News personality reportedly accepted her $69 million contract at NBC with the hopes of becoming the new "Oprah" of the network. But during her time at NBC, Kelly struggled to achieve high ratings on her 9 a.m. Today hour, insulted high-profile guests (including Jane Fonda), and had been accused of fostering a "toxic and demeaning" work environment.
On Thursday, the news of Kelly's departure was confirmed by sources to both the Daily Mail and "Page Six." A source also told the Daily Mail that Kelly may be able to walk away with her contract paid out in full. "Here's the worst part — her deal is a non-break deal — so she walks away with all that money. It's disgusting and heads should roll here because of it," the source said. A source also told Daily Mail that there are "tentative conversations" for Kelly to return to Fox News.
People, conversely, cited two sources who say that Kelly has not been fired, though both said her show was most likely over. "They're contacting the staff and reassigning everyone today. Everyone's being told that they still have a home here, but it won't be on Megyn's show," one source said. "They haven't made an official announcement about the show, but everyone knows what it means when they're being moved somewhere else. The show is clearly over."
NBC announced the show's cancellation in a Friday statement: "Megyn Kelly Today is not returning. Next week, the 9 a.m. hour will be hosted by other Today co-anchors."
This post has been updated.