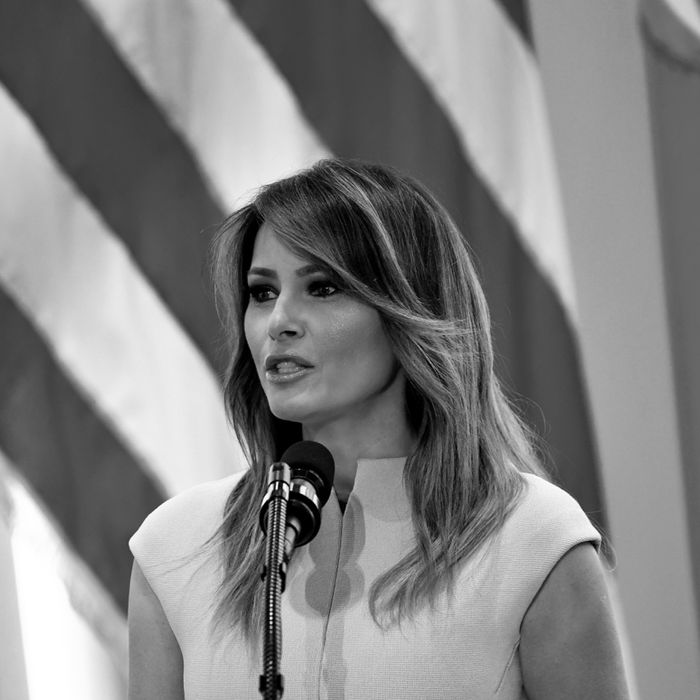 Melania Trump.
Photo: MANDEL NGAN/AFP/Getty Images
The Being Melania special aired this weekend on ABC News, and Melania Trump discussed being bullied and her initiatives as First Lady. She also swapped up the narrative about the "I Don't Care" jacket she wore to visit detained immigrant children at the border. The interview took place during Melania's tour across the African continent, where she visited Ghana, Kenya, Malawi, and Egypt.
"It's obvious, that I didn't wear the jacket for the children," Melania told Tom Llamas. "I wore the jacket to go on and off the plane. It was for the people and the left-wing media that were criticizing me. And I want to show them that I don't care."
In her jab at the "left-wing media" Melania utilized the Trumpian style of addressing controversies. She flipped the critiques of her wardrobe choices onto the group challenging her, and then garnered sympathy by playing her role as a woman who is more frequently discussed for what she wore, rather than what she did. The First Lady told Llamas that she wished people would not comment on her clothing, and instead focus on her initiatives.
During the special, Melania also shared that she felt like the most bullied person in the world. "I could say that I'm the most bullied person in the world," she said, adding, when challenged on the statement, that she is at least "one of them, if you really see what people are saying about me." Melania's main initiative is the "Be Best" campaign, to end bullying.
When asked about her husband, the First Lady said that she gave Donald Trump unconditional support, and that she believes he is doing an "incredible job for the nation."