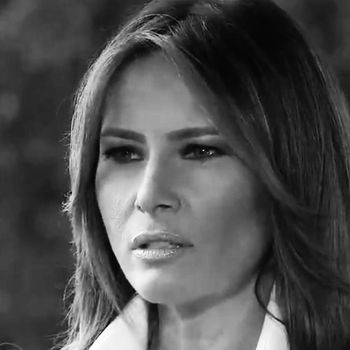 Melania Trump. Photo: Courtesy of ABC World News Tonight.
Melania Trump was on a solo trip to Africa last week as Brett Kavanaugh's nomination process to the Supreme Court wrapped up. There, the First Lady sat down with ABC World News Tonight for an interview (airing Friday at 10 p.m.), in which she was asked about the sexual-assault allegations against Kavanaugh, as well as the #MeToo movement. Melania responded that survivors should only report their assaults if there's "evidence."
Anchor Tom Llamas joined the First Lady during her four-country tour in Africa, during which they sat down for an exclusive interview. In a clip released on Wednesday, Melania talks about how it's "sad to see that organizations and foundations" she wants to work with, choose not to get involved with her "because of the administration." She was then asked directly whether she supports the #MeToo movement.
In response, Melania told ABC, "I support the women, and they need to be heard. We need to support them, and also men, not just women." The First Lady was also asked if she feels that the men who have been publicly accused of assault have been treated unfairly.
"We need to have a really hard evidence that, you know, if you're accused of something, show the evidence," Melania said in the interview. "… I do stand with women, but we need to show the evidence. You cannot just say to somebody, you know, 'I was sexually assaulted' or 'You did that to me,' because sometimes the media goes too far and the way they portray some stories, it's not correct, it's not right."
Recent high-profile cases — including the fact an accused abuser now has a lifetime appointment on the Supreme Court — have highlighted the fact that evidence and speaking out aren't always a given. Two out of every three sexual assaults go unreported — often out of fear of retaliation or a belief that there's little the police can actually do to help — and false rape accusations are incredibly rare. And people who do end up going to the hospital for rape are often stuck with hefty medical bills (even with private insurance, people end up paying around $1,000). In the case of Supreme Court Justice Brett Kavanaugh, the FBI didn't speak with a number of people identified as potentially having crucial information regarding allegations of abuse. His accuser, Christine Blasey Ford, faced death threats, had her entire life upended, and had to move her family out of their home.