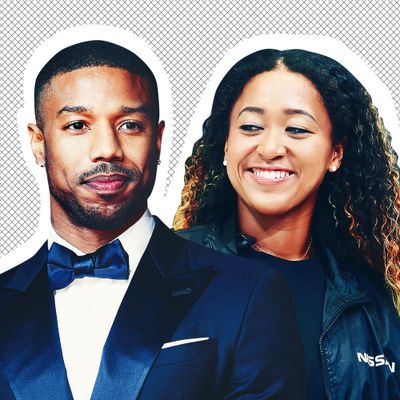 Naomi Osaka and Michael B. Jordan.
Photo: Getty Images
Nearly a month after 20-year-old tennis star Naomi Osaka bravely admitted on the The Ellen DeGeneres Show that she had a major crush on Michael B. Jordan (because who doesn't?), the actor asked Osaka to the premiere of his upcoming film Creed II for her 21st birthday.
Osaka appeared on The Ellen DeGeneres Show less than a week after winning her controversial U.S. Open final against Serena Williams; during her appearance, DeGeneres pushed her to reveal her celebrity crush. When Osaka finally responded, the host tried to play matchmaker by sending a selfie of herself and Osaka to Jordan. The tennis star, who was palpably embarrassed, pleaded to DeGeneres, "I'm too young to be stressed out like this."
Nearly a month passed; no one was publicly humiliated. But then, on Tuesday, DeGeneres posted a photo of Jordan and his unparalleled abs with the tweet, "Happy birthday, @Naomi_Osaka_. I got you a present." Osaka replied, "pls block me."
One day later, Jordan responded to Osaka's tweet with a more "recent" one of he and his abs (bless), and said, "But seriously I want to invite you to the Creed 2 premiere as a bday present." This time, Osaka cautiously rejoiced — it's not every day you get asked out by Michael B. Jordan, after all — and told him that if he was serious, she "would totally want to go."
After enduring a month of multiple public humiliations at the hands of DeGeneres, Osaka definitely deserves this.