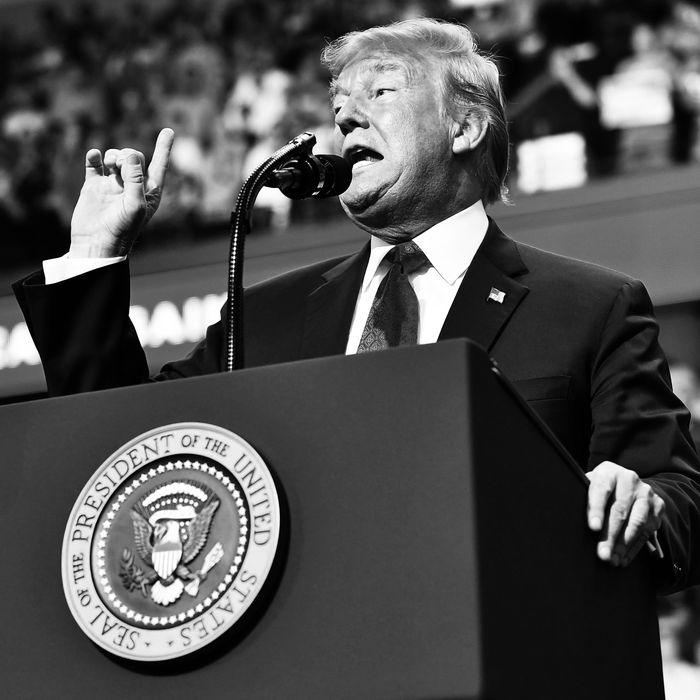 President Trump mocking an assault survivor.
Photo: MANDEL NGAN/AFP/Getty Images
After describing Dr. Christine Blasey Ford as a "very credible witness" following her testimony last week about her alleged assault by Supreme Court nominee Brett Kavanaugh, President Trump openly mocked her at a rally in Mississippi on Tuesday, and went on to say that he had plenty of experience with "false accusations."
Almost immediately, Ford's lawyer, Michael Bromwich, responded on Twitter, calling the president's comments a "vicious, vile and soulless attack," and saying that Ford is a "profile in courage," while Trump is a "profile in cowardice."
Imitating Ford, Trump said at the rally: "I had one beer. Well you think? Nope, it was one beer. How did you get home? I don't remember. How did you get there? I don't remember. Where is the place? I don't remember. How many years ago was it? I don't know, I don't know, I don't know." The crowd went wild.
The president also bemoaned the state of the country, and expressed his concern for young men who he worries might be accused of sexual misconduct. (As we noted when his son made a similar comment earlier this week: Research finds that false reporting only accounts for between 2 and 10 percent of sexual-assault allegations.)
Over 20 women have accused Trump himself of sexual misconduct, but he dismissed those allegations as false as well, saying, "I've had many false accusations, and when I say it didn't happen, no one believes me, but it's my job description. They can say anything they want, but we can't sue them, because if you're famous you can't sue, figure that out."
Trump has, of course, threatened to sue several of his accusers.