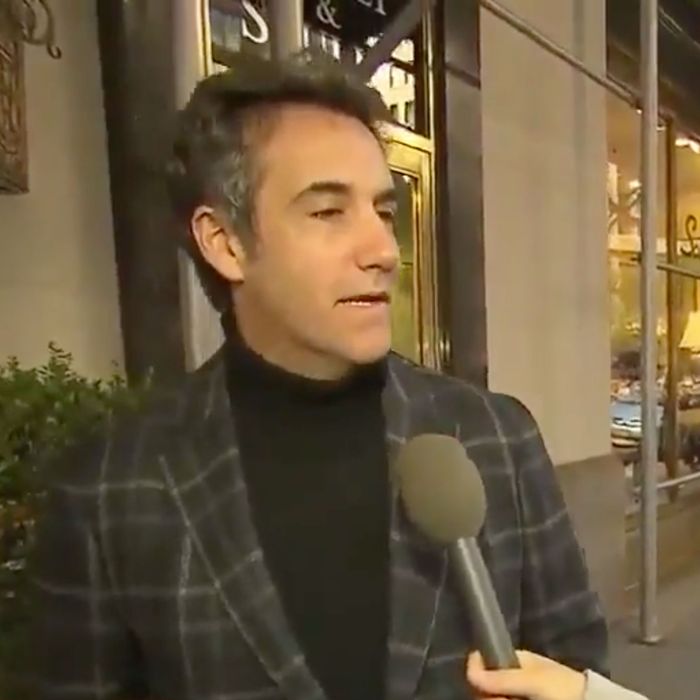 Michael Cohen.
Photo: CNN
President Trump's former personal attorney Michael Cohen has resurfaced for the first time since he pleaded guilty to campaign-finance violations and fraud. On a street corner, he told CNN, "Grab your family, grab your friends, grab your neighbors, and get to the polls, because if not, you are going to have another two or another six years of this craziness." Too little, too late on that front, buddy, but there's something else new and irksome going on here: He stole my look.
Cohen, who is normally only seen wearing slightly oversize suits with large ties, wore a black turtleneck with a plaid blazer during the interview. Just like the one I wore to work last week! No, this is not the kind of heinous crime Cohen is used to committing, but it is a low blow to me. And to Calvin Klein, Marc Jacobs, Michael Kors, and all of the other designers who had planned on using blazers and turtlenecks as the ultimate fall combo. This is just like when Melania Trump ruined ugly pants. Anyways, if you still want to wear the outfit in the hopes of looking more like Princess Diana than Michael Cohen, shop the look below.
Get Michael Cohen's Snappy Blazer Look
Available in sizes 14–28.
If you buy something through our links, New York may earn an affiliate commission.