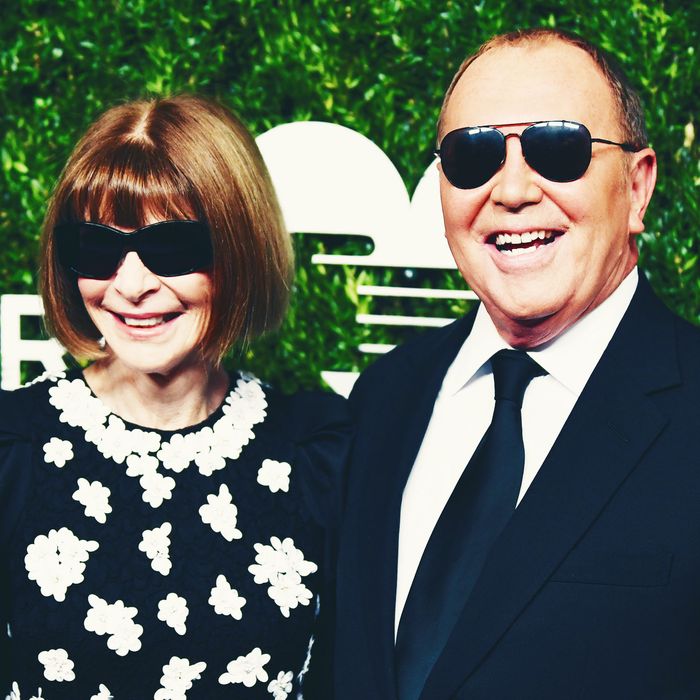 Anna Wintour and Michael Kors attend the God's Love We Deliver Golden Heart Awards.
Photo: Dimitrios Kambouris/Getty Images for Michael Kors
On Tuesday night at Spring Studios, fashion designer Michael Kors co-chaired the annual God's Love We Deliver Golden Heart Awards with Vogue editor-in-chief Anna Wintour. Honorees included Jamie Niven, an auctioneer and philanthropist, and actor Hugh Jackman, whose company Laughing Man Coffee supports coffee farmers around the world. Playwright Tony Kushner, best known for Angels in America, was presented with the lifetime achievement award.
Just about everyone who took the stage on Tuesday night made some reference to the grim state of affairs in Washington. Fellow co-chair Blaine Trump even joked that she was "working on changing [her] name." Well, maybe she wasn't joking. But Tony Kushner definitely was when he said he would follow her lead.
Still, the guests put on a good face. (And a nice Michael Kors suit.) "Here, we do something about it, and it feels fucking fantastic," said the event's host, Late Night writer Amber Ruffin. Other guests included Bette Midler, Priyanka Chopra, Iman, Neil Patrick Harris, Naomi Watts, and Ashley Graham — many of whom participated in the night's live auction, which raised hundreds of thousands of dollars for God's Love We Deliver.
After hearing everyone's speeches, particularly an eloquent one by Tony Kushner, Hugh Jackman said he was feeling a bit nervous about his own. "Just sing a song," Anna Wintour told him. And when Anna Wintour tells you to do something, you listen. Jackman took the stage belting a rendition of "Oh, What a Beautiful Mornin'."
"You must drink a hell of a lot of coffee," said Michal Kors when he presented Jackman with his award.