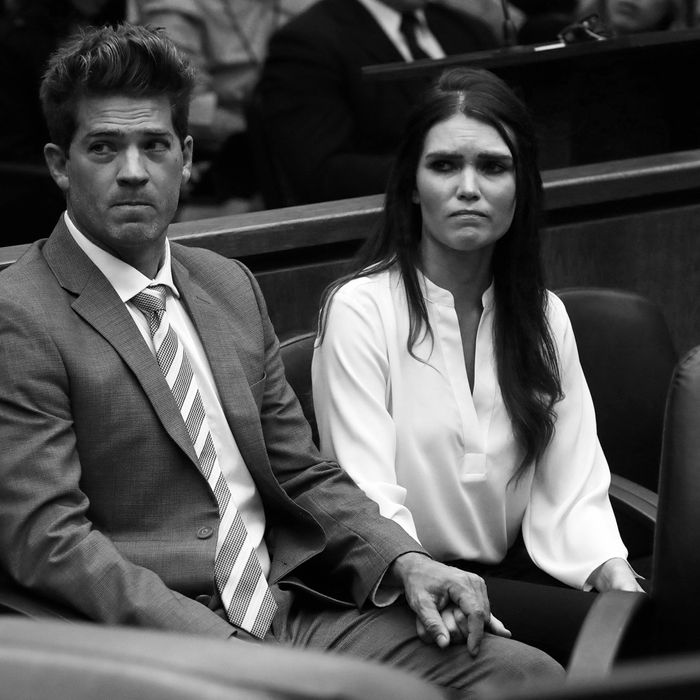 Grant Robicheaux and Cerissa Riley.
Photo: Allen J. Schaben/LA Times via Getty Images
In September a California doctor who once appeared on a Bravo reality-dating show and his girlfriend were charged with multiple counts related to drugging, sexually assaulting, and filming their encounters with two women. At least six other women came forward with additional allegations — though no charges were filed at that time. Now, more charges are being brought against Grant Robicheaux, 38, and Cerissa Riley, 32 according to NBC News.
Robicheaux was charged with assaulting five additional women between the years of 2005 and 2017, and Riley was also charged for three of those assaults. The two were charged with multiple counts of kidnapping to commit rape. NBC News reports that Robicheaux is also charged with four counts of possession of a controlled substance, and two counts of possession of an assault weapon. In total, 17 charges have been filed against Robicheaux, and 13 have been filed against Riley.
In addition to being charged with kidnapping, Riley was charged with three counts of rape by use of drugs, two counts of assault with intent to commit sexual offense, one count of oral copulation by anesthesia or controlled substance, as well as two other controlled-substance charges. Both Riley and Robicheaux deny all allegations against them. In a press conference on Wednesday outside of the courthouse, Robicheaux's attorney gave a statement to the press.
"It has been our position from day one that all sex with all named victims, unnamed victims — it is Grant and Cerissa's absolute position that no nonconsensual sex ever took place," attorney Philip Cohen said.
According to KTLA 5, if convicted of the current charges, Robicheaux could face up to 82 years in prison, and Riley could face up to 64.