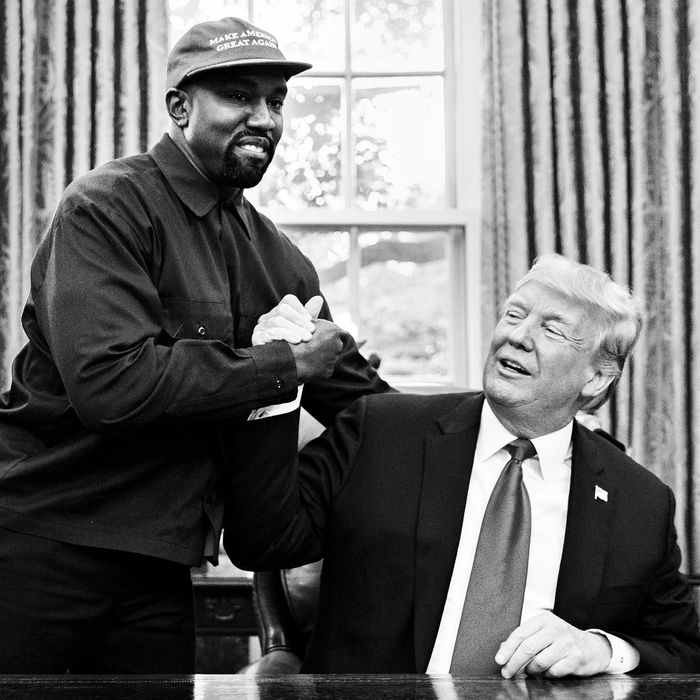 Photo: Bloomberg/Bloomberg via Getty Images
Kanye West visited the White House on Wednesday, and it was in line with the nonsense "reality TV" moments we've come to expect from two of the world's most bizarre narcissists.
Sitting across from the president in the Oval Office, West, who has previously praised Trump for his "Dragon Energy," and recently went on a mystifying political rant about his admiration for the president following an appearance on SNL, wore a "Make America Great Again" hat, and held forth for ten minutes on a range of topics, from racism, taxes, hats, and his absent father. Let's take a look at a few of the most bizarre, disorienting, and truly puzzling moments of the day.
West's Soliloquy
West and Trump have both utilized the same format for giving speeches — a stream-of-consciousness ramble that verges on nonsense but keeps people listening nonetheless. These fragments were particularly bizarre:
• "I love Hillary, I love everyone, right, but the campaign "I'm With Her" just didn't make me feel as a guy that didn't get to see my dad all the time, like a guy that could play catch with his son."
• "The constitution is the base of our industry, of our company or country. Would you build a trap door that if something happens, you fall and you end up next to the Unabomber? You have to remove that out of the relationship."
• "There's a lot of things affecting our mental health that makes us do crazy things, that puts us back into that trap door that's called the 13th Amendment."
Trump Seemed at a Loss for Words
Apart for a few chuckles and muted remarks, Trump remained mostly silent during his lunch with West. This is minor miracle for the president, because typically when Trump is in front of cameras, he can not contain himself.
Kanye Revealed His Lazy Password
Before Kanye showed Donald a GIF of his design for a new Air Force One, he had to unlock his phone, which one of the dozens of cameras in the room picked up. His password? All zeros.
West Hugged Trump Like Santa Claus
Watching Kanye West give Donald Trump a hug while Trump remained seated in the Oval Office was so bizarre it bordered on painful. It was upsetting. Both had wide smiles on their face, as West proclaimed that he "loved this guy right here" while enclosing the upper half of Trump's body in a wide grasp, while Trump's arm cradled, then patted West halfheartedly.
Jared Kushner Looking Extremely Uncomfortable.
Kanye reportedly called Jared Kushner "Jerry" at one point, which might explain, at least partially, why Kushner looked paralyzed with discomfort the entire time.
West's Post-Lunch Visit to the Apple Store.
Taking a trip to the Apple Store after his visit with the President, West asked a group of unsuspecting shoppers if he could give a speech, and before he received an answer, climbed up on a table and began delivering a speech, which included that he made a new hat for Donald Trump that just said "Make America Great" and said he was "going to Africa."