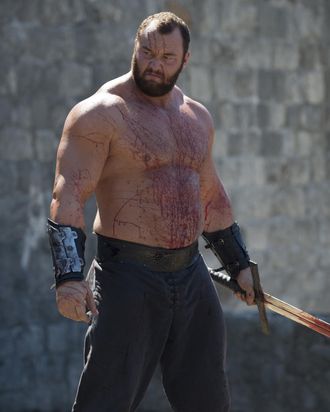 Hafþór Júlíus Björnsson plays Ser Gregor Clegane "The Mountain" on Game of Thrones. More importantly, he's 6'9" and currently the strongest man in the world. Even more importantly, he got married this weekend in his native Iceland to a 5'2" Canadian, body-building woman named Kelsey Morgan Henson.
According to TMZ, the two hit it off in a bar in Alberta after Henson asked for a picture with Björnsson. Couple photos usually induce Liz Lemon–grade eye rolls, but viewing pictures of these two together just makes you believe in love again. Take the wedding photo Björnsson posted over the weekend in which he writes: "I get to hold this beautiful woman through thick and thin for the rest of our lives! I'm so excited for all of the future adventures we will tackle side by side."
It's cute because it's true! A review of both their glorious Instagram accounts proves that a) Björnsson is really good at holding this beautiful woman in a variety of positions and b) the two love birds are really good at tackling a variety of things literally standing side-by-side. In a cheers to the happy couple and their recent nuptials, we've rounded up a handful of heartwarming pics that best represent this happily ever after. It's been a rough week for love, you deserve this.
Holding This Beautiful Woman
Threshold holding!
Threshold holding on a couch!
One-armed holding!
Flamingo holding!
Shirt holding!
Tackling Things Side by Side
Tackling wedding photos!
Tackling a regular selfie!
Tackling a matching mirror selfie!
Tackling a gym mirror selfie!
Congrats!!!