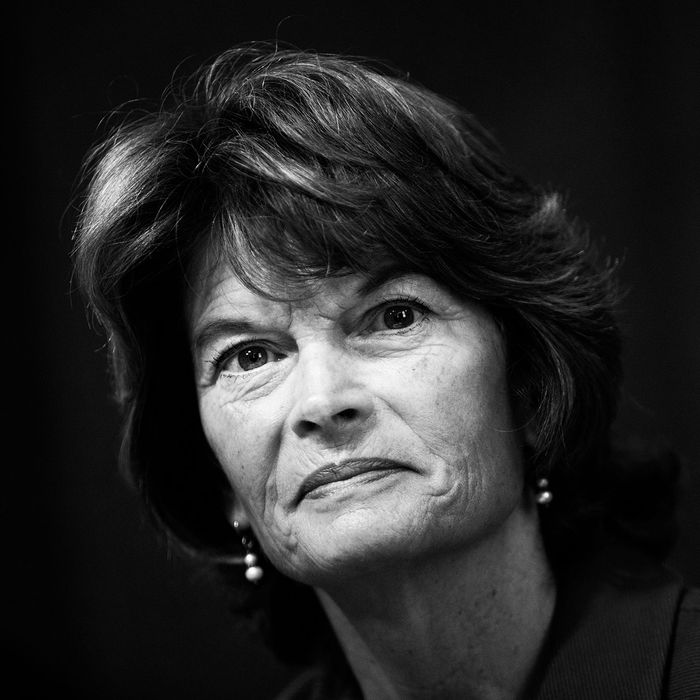 Lisa Murkowski.
Photo: Drew Angerer/Getty Images
On Friday, the Senate voted 51-49 to end debate over Brett Kavanaugh's nomination to the Supreme Court, making his confirmation close to certain at this point. The senators largely stuck along party lines during the vote, but the vote did have one surprising outlier: Republican senator Lisa Murkowski of Alaska, whose "no" vote showed the power of constituents putting pressure on their representatives.
Kavanaugh has been accused of three instances of sexual misconduct; his initial accuser, Christine Blasey Ford, testified about her alleged high-school assault in front of the Senate Judiciary Committee just last week. What followed was a highly scrutinized FBI investigation into the allegations (during which people with crucial information were said to have been omitted). Then, as the FBI wrapped up its days-long investigation, Senate Majority Leader Mitch McConnell set the procedural vote for Friday
But for weeks, Murkowski — who had been considered a swing vote until Friday — had been receiving pressure from some constituents in Alaska to vote against Kavanaugh.
Since September, Alaska Natives have been urging her to vote no. According to HuffPost, the Alaska Federation of Natives (which represents over 20 percent of the state's population) announced its opposition on Kavanaugh, and the Alaska House Bush Caucus, a group of focused on tribal and rural representation, asked them to vote no as well. Sexual-assault survivors and activists from Alaska — where 50 percent of women have experienced some form of sexual assault, according to 2015 statistics — also called on on Murkowski to take a stand against Kavanaugh.
Amid all of this, Murkowski also recently revealed to Alaska Public Media that she has had a #MeToo experience of her own (though her spokesperson declined to provide further details). And just this week, more than 350 female attorneys in Alaska sent a joint letter to Murkowski and the state's other Republican senator, Dan Sullivan, urging them to vote "no" on Kavanaugh. Protests were staged in Alaska with the aim of convincing her to vote no. Murkowski also recently met with survivors of sexual assault.
After the Friday vote, Murkowski — who garnered criticism in 2013 for inserting the "Alaska exception" into the Violence Against Women Act reauthorization (which exempted Native Alaskan women from the act and which she later worked to repeal) — told reporters she hadn't made up her mind until walking into the Senate chamber. Per Politico reporter Kyle Cheney, she said, "None of this has been fair." She added, "I believe Brett Kavanaugh is a good man" but that he's "not the right man for the court."
But although Murkowski broke with her party on Friday, it's important to note that she may be in a different position than her Republican colleagues. Back in 2010, Murkowski was not the Republican Party's candidate for Senate; instead, she won as a write-in candidate after losing the GOP primary. So, it could be argued she may not need as much party support as other senators.