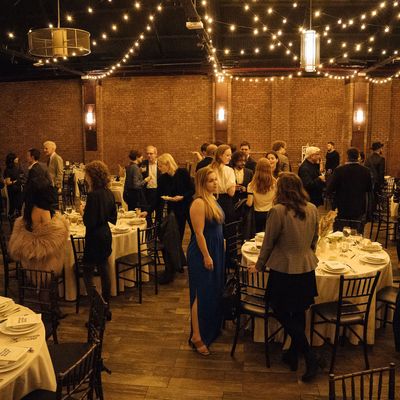 Everyone was hugging at N Plus Ultra, the fourth-annual benefit to support the "bohemiaphilic intellectual journal" n+1 magazine. The dinner, held Thursday night under a canopy of string lights at 26 Bridge in Dumbo, felt like a reunion of sorts — an excuse for the original editors of n+1 to hug and reminisce and support emerging literary talent, 14 years after founding it.
"n+1 started out as a lucky little literary journal," said Keith Gessen, a novelist and one of the founding editors of n+1. "It was a small group of friends who felt kind of frustrated by our own failure as writers, and we felt like our genius was not appreciated. The only kind of work we could get as young writers was book reviews, and we thought we could do more than that."
The event was co-hosted by some of the biggest names in contemporary literature and film, including Greta Gerwig, Elif Batuman, and Emma Cline. Guests sat down for a dinner of halibut and plenty of wine as the n+1 Foundation honored film critic A.S. Hamrah with a writers' fellowship.
"This is like the one time of year I put on a small dress," said book editor Emma Janaskie. "The first one of these events I went to was in someone's apartment. It was a Groundhog Day benefit — no dinner, nothing like that. And now, there are a lot of publishers and book agents and film people here, and it's interesting to see it become more interwoven within the broader community."
The co-hosts and editors spoke about how important it is to support the literary arts, especially in this dark political landscape. Writer Lynne Tillman added, "It feels like the only thing that isn't fake news these days is fiction."