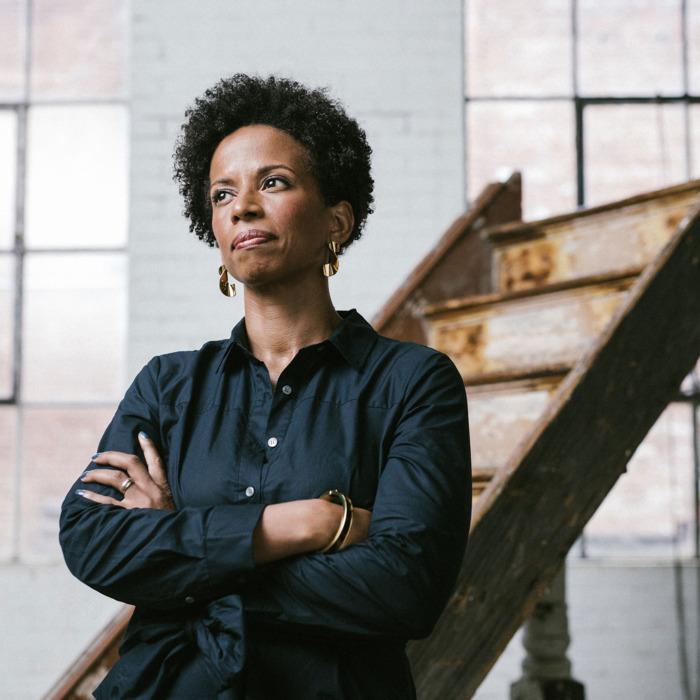 When Charissa Fernández was growing up in upstate New York, she never had a single teacher of color. In fact, there were no adults of color to be found anywhere in her school. "Had I not had the experience of spending weekends in the city with family and summers in Jamaica with my family there, I could have come out with a very limited or distorted view of what was possible for a young black girl," she says.
Fernández's upbringing has a lot to do with why she's spent her entire career in education and why she's so passionate about her current role as New York Executive Director of Teach For America (TFA). She joined the organization, which brings bright minds into struggling schools to teach for two-year terms, five years ago with the goal of reaching the most vulnerable students in the city.
"Growing up, my parents, with a very typical immigrant parent perspective, thought if you just work hard, then you will reap the rewards of that," says Fernandez, whose parents both came to the U.S. from Jamaica. "When I got to college, I started to understand that that wasn't really true. There were lots of people who were working hard and not seeing the benefits of it. And there were other people who didn't have to work that hard and were getting the benefits anyway. I realized that the system was actually set up to reproduce the inequality that already existed."
Today, Fernández is responsible for developing and supporting 500 current New York City teachers — or corps members, as they are called — along with engaging the more than 5,000 alumni who live in the NYC area. "My crew is all about expanding opportunity for all children. That includes all of our corps members and alumni who are out there doing the hard work in schools every day," she says. It's this mission that puts Fernández and her team at the forefront of the movement in which brands, such as J.Crew, are creating and celebrating progressive, inclusive values.
Alongside her colleagues, Fernández also helps raise money and establish partnerships that allow TFA to continue its work. And like the nearly 49,000 prospective teachers who apply to TFA each year, she believes that all young people, whether they be native born, undocumented, black, white, Latinx, rich, or poor deserve a superior education.
"Being from here, raising my family here, [and given that] my husband is also from here, I have a very deep commitment to the children of this city and a feeling that we should all have a sense of shared responsibility for making sure they have access to an excellent education," Fernández says.
A good education, however, is not only about having lots of school supplies and encouraging teachers. It is essential for students to see teachers who reflect their backgrounds and experiences. Among Teach for America's 2017 corps, more than half identify as people of color, 43 percent received Pell Grants (an indication of coming from a low-income background), and one third were the first in their families to graduate from college.
"There's a growing body of research that illustrates the impact that having teachers who share your background can have for individual students," says Fernández. "When I see our corps members who do share the background of our students, whether that's being the same racial or ethnic group or being a first-generation college graduate, I see the kids' reaction to them as that's what possible for me." A 2017 study of more than 100,000 students found that black children who had a black teacher between third and fifth grade were more likely to go on to college, and boys were less likely to drop out of high school.
Fernández speaks with particular excitement about the expansion of universal pre-K. "I imagine these kids — who are now three and four years old, who have access to full-day pre-K — what the future looks like for them, and what that means about the future for us as a city and a country," she says. She's also inspired by an increased focus on diversity, especially when it comes to acknowledging and respecting student activism. "We miss out as a country on so many voices and perspectives in spaces that are not diverse."
It is all of our responsibility to bring those voices and opportunities to the forefront. "We have an expression that we use here — 'it takes a city,'" she says. "When we are at our best as a city, we keep educational equity at the top of the public agenda."
Fernández has every intention of continuing to do this and encouraging others to do the same. It is, after all, likely the best shot at delivering on her vision for a brighter future. "What I want for all kids is what I want for my own kids," she says. "That is for them to be able to attend schools and have experiences and opportunities outside of school that support, inspire, and challenge them to reach their full potential."
This is paid content produced for an advertiser by New York Stories. The editorial staff of The Cut did not play a role in its creation.