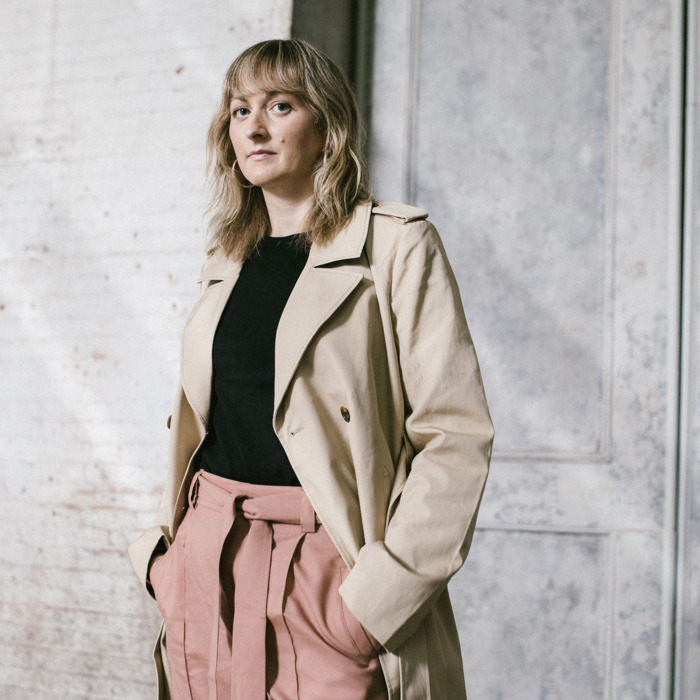 The phrases that appeared on the newspaper Kelly Rakowski created to promote the Kickstarter for her new Instagram-community-turned-app, Personals, might make you blush. But her departure from so-called polite language worked. Rakowski raised 19 percent more than her $40,000 goal in just one month.
"Language is so important to queer culture, and you have all these specific words for how you describe yourself — hundreds of different ways," Rakowski says. "I think people really have fun learning how others describe themselves."
That's just one reason that Rakowski's project — she's also the founder of the 143,000-followers-strong, lesbian culture Instagram @h_e_r_s_t_o_r_y  — caught on. A magazine photo editor by day, she doesn't consider herself a trailblazer. Many, however, would disagree. Rakowski's work is part of a movement rooted on Instagram in which individuals and brands such as J.Crew create and celebrate progressive, inclusive values.
"I came out when I was 35," Rakowski says. "At the time, I felt a little out of the loop because I'd kind of missed all of this culture and community for so many years." That's when she took to the Internet, a place where she admits she'd lived much of her life since frequenting AOL chat rooms in the '90s, to dig through the archives.
"I started an Instagram to put together a bunch of things I was finding as I was learning about lesbian history and culture and educating myself about all of that," she says. "I also felt able to connect with people, because I was sharing images and people were responding to them right away. This group of people are behind computers, but they are real people, and they make me feel good. My friends followed. They told their friends. It just grew and grew. I felt like there wasn't a resource, one place I could read about all this stuff." Today, Rakowski posts a variety of content, some featuring unsung queer heroes and some lighter fare. She expresses a particular fondness for the lesbian meme account @xenaworrierprincess.
When you visit @h_e_r_s_t_o_r_y, you'll notice the bio includes "NO TRANSPHOBIA." That's important to Rakowski, because she simply cannot wrap her head around queer culture excluding anyone. "We have to embrace, carry, and use the word 'lesbian' proudly, but also make sure people know you're open to more than that and are supportive and inclusive to all sorts of people."
With the goal of keeping the platform gender neutral, Rakowski is not including the term "herstory" in Personals, which began as part of @h_e_r_s_t_o_r_y after Rakowski discovered digital archives of a lesbian magazine from the '80s and '90s. On the back of each issue, she found personal ads, which she loved, screenshotted, and shared. "After posting a bunch, I was like, this would be so cool if lesbians today wrote these," she says. "I started a shared doc where people filled out a form, and it became so popular on @h_e_r_s_t_o_r_y that I made a new [account]. I do an open call [for submissions] every month for two days, and I get over 500 submissions in that time." Needless to say, it's tough to keep up, hence the aforementioned Kickstarter campaign to convert Personals into an app powered by its users.
"It feels like we're all building this app together," says Rakowski. "So many people email me asking to help out in so many ways. I get $5 donations throughout the day. Every little bit helps, and that's what keeps me going."
Rakowski has no background in tech, and she openly admits that passion is her driving force. She hopes to launch a beta version of what she calls "more than a dating app, a community" in January 2019.
"I don't think the end game for this app is you get married or something," Rakowski says. "So many people just want to find friends or people who are experiencing things that they are experiencing." She points to a friend who recruited for a soccer team and people looking for pen pals on Personals. "I think it's a little bit too limiting to just say 'dating.' There's not really anything out there that's lesbian, bi, intersex, trans, non binary, asexual, and gender-nonconforming. It's kind of like all of the ignored people."
The Instagram version, which the app will complement and very much resemble at least early on, already serves as a safe space where community members are comfortable being vulnerable. "It's just a really active space, very thirsty," Rakowski says. "The whole vibe is everyone's into just cheering your personal on and saying how sweet, hot, or interesting you are. It's a healthy environment. Everyone has the best time."
That's one not-so-small step toward Rakowski's vision for a better, brighter future. Her great hope is that "people who aren't overly represented become more visible and active, and build communities for themselves."
We're in.
This is paid content produced for an advertiser by New York Stories. The editorial staff of The Cut did not play a role in its creation.