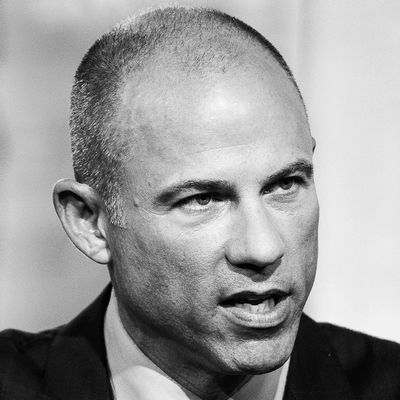 Michael Avenatti.
Photo: Mark Kauzlarich/Bloomberg via Getty Images
Attorney Michael Avenatti tweeted Tuesday evening that he had a second witness who could testify to Supreme Court nominee Brett Kavanaugh's misconduct in high school, and who could corroborate some of the claims made by his client, Julie Swetnick, who alleged last week that Kavanaugh was present while she was drugged and gang-raped at a party while in high school.
Avenatti's tweet includes screenshots of emails he sent Senate Judiciary Committee staff urging them to arrange an FBI interview with Swetnick, and the scanned pages of a declaration from another unnamed witness, who says she believes Dr. Christine Blasey Ford and Julie Swetnick are "honest and truthful," and that she saw Kavanaugh and his friend, Mark Judge, drink to excess, spike drinks, and be "overly aggressive and verbally abusive towards girls."
"I have seen Brett Kavanaugh's recent interview on Fox News regarding his alleged 'choir boy' existence during his high school years and lack of sexual activity. The claim is absolutely false and a lie based on what I observed firsthand. It is also laughable."
She said that during the years of 1981–2, she "witnessed firsthand" Kavanaugh and others "spike" the "punch" at the house parties they attended with "Quaaludes and/or grain alcohol."
"I understood this was being done for the purpose of making girls more likely to engage in sexual acts and less likely to say 'No,'" she wrote. She added that she knew other witnesses who could testify to these facts.
Kavanaugh has strongly denied all the claims against him, and called Swetnick's allegations "ridiculous" and from "the Twilight Zone."
Avenatti has been pushing for the FBI to speak to Swetnick as part of its one-week investigation into the accusations against Kavanaugh, but earlier on Tuesday Avenatti said that they had not yet contacted her.