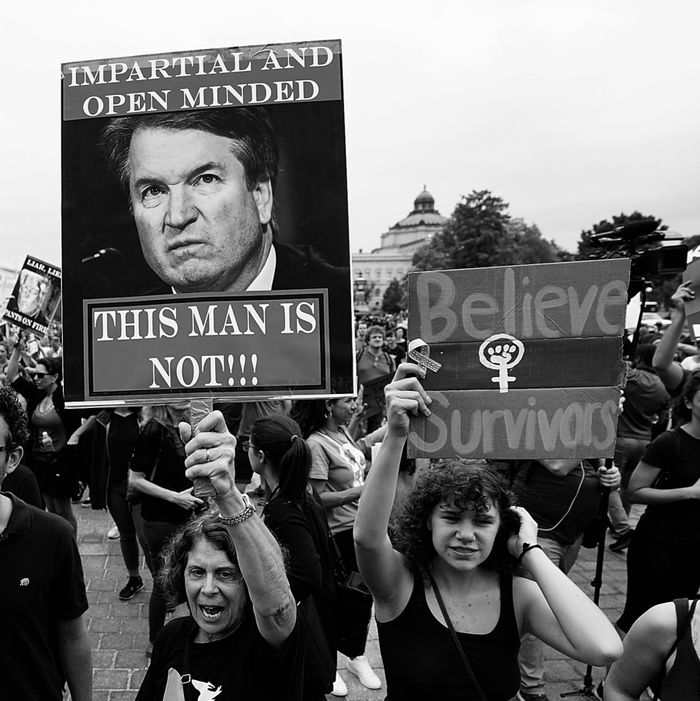 Protesters against Kavanaugh.
Photo: Alex Wong/Getty Images
A new CNN poll shows that 51 percent of respondents do not support Brett Kavanaugh's confirmation to the Supreme Court. This is a 12 point increase since September, before Christine Blasey Ford came forward with her allegation of sexual assault.
Along party lines, Democrats' opposition to Kavanaugh jumped drastically. In September, 63 percent of Democrats opposed his confirmation. Now, 91 percent of Democrats do not support him. The inverse is true for Republicans: In September 74 percent supported Kavanaugh; now 89 percent do.
Kavanaugh was confirmed to the Supreme Court on Saturday, following a limited FBI investigation into Ford's allegation that Kavanaugh tried to rape her while they were both in high school. His confirmation was the closest Supreme Court vote in history, and was protested across the country. At the U.S. Capitol, over 150 were arrested while demonstrating against the judge.
Kavanaugh has been accused by three women of sexual assault and misconduct: Christine Blasey Ford, Deborah Ramirez, and Julie Swetnick. Lawyers, former classmates, and former Supreme Court justice John Paul Stevens are all included in the list of people who have voiced their opposition to Kavanaugh's confirmation.