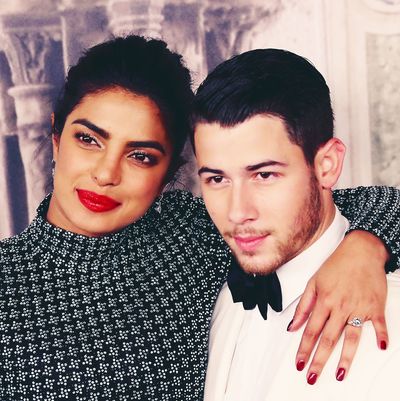 Priyanka Chopra and Nick Jonas.
Photo: Rob Kim/Getty Images
Betrothed celebs Priyanka Chopra and Nick Jonas may have only started dating in the spring, but their wedding date is already rapidly approaching. And what, pray tell, even kicked off their whirlwind romance? According to Priyanka, a very LinkedIn message–esque text from the pop star.
Speaking with Entertainment Tonight the day after her fancy bridal shower at Tiffany & Co. in New York City, Priyanka, 36, opened up about how the duo connected in the first place. The pair made their first non-couple appearance together at the 2017 Met Gala, when they were both clad in Ralph Lauren. Chopra told Jimmy Kimmel at the time that they weren't dating, and that they only attended the event together because they were "on the same table," wearing the same designer, and "already knew each other." Priyanka and Nick, 26, were officially dating by May 2018.
So how did they start "talking" in general? Priyanka told ET it all started with an extremely professional text. Per ET:
"I actually didn't make the first move — he did," Chopra told ET at a dinner event for Bumble on Monday. "He texted me. The first time was a text and just saying, 'I think we should connect,' and whatever and that's how we started talking."
It's unclear whether the text in question was before the 2017 supposedly platonic Met Gala date, or if they perhaps "connected" later when they started officially dating in May 2018. But we'd say Nick's "connecting" text proves that it's more than okay to make your intro message to a crush sound like a line from a cover letter.