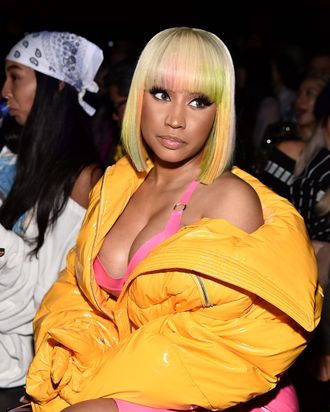 Nicki Minaj.
Photo: Theo Wargo/Getty Images
There's no end in sight for the feud between two of the most successful rappers in the world. After a New York Fashion Week fight that involved Cardi B throwing a shoe, she and Nicki Minaj have been open about their disdain for each other.
On Monday, Nicki took to her radio show, Queen Radio, to talk about the Fashion Week incident and the events that led to that fight. She claimed innocence on a number of issues, including whether she had leaked Cardi B's phone number to fans.
Cardi B responded with a ten-part Instagram video series, addressing multiple aspects of their feud and calling Nicki Minaj a liar.
Shortly thereafter, Nicki took to Twitter, inviting Cardi B to get a lie detector test with her on-air. "I'll pay you to take a lie detector test about every claim I made," she wrote. "You won't. I must admit you're a convincing liar."
"We can … Get on live & have the convo for the world to see," she wrote in a subsequent tweet. She also offered another (on-air) option to Cardi: a writing contest.
Nicki repeated the challenge to write a rap in a following tweet as well, when she wrote that Cardi is not the only one turning down deals.
The Maury Show, never wanting to miss out on drama, offered to supply the lie detector test for free:
Nicki Minaj took Maury up on the offer, and continued to promote her latest music video in every tweet.