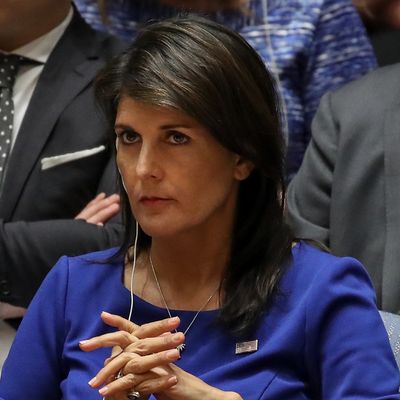 The former South Carolina governor had become a bit of a star in the Trump foreign policy firmament.
Photo: Drew Angerer/Getty Images
In a surprise development, U.S. Ambassador to the United Nations Nikki Haley tendered her resignation today, as first reported by Axios's White House reporter Jonathan Swan. As speculation spread about the odd timing of this announcement (she's not actually leaving until the end of the year), the president held a press availability with Haley in the Oval Office. There was a lot of mutual billing and cooing and denials that anything strange was afoot. The peculiarity of the event was perhaps captured by the fact the Haley felt constrained to go out of her way to deny any interest in running against Trump in 2020.
Swan offered no theories as to why Haley would be stepping down at this odd juncture, just before a midterm election in which the administration's future will be shaped. The 46-year-old former governor of South Carolina has been the subject of much speculation about a possible future position on a national political ticket. But there are at present no open or Democratic-held statewide positions in South Carolina she could run for, and if she's in line for a different administration position, it would normally be announced along with her resignation. It's all a mystery for now.