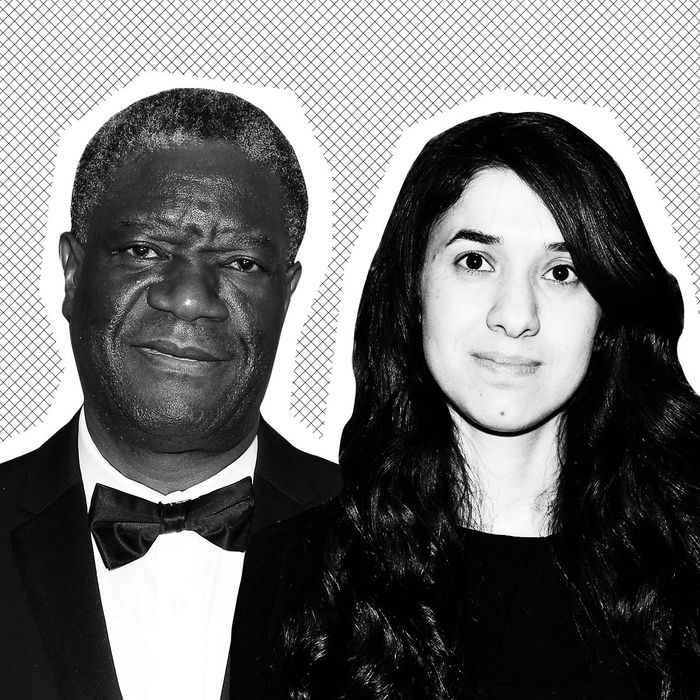 Denis Mukwege, Nadia Murad.
Photo: Getty Images
This year's Nobel Peace Prize — a time-honored award that has gone to the likes of Barack Obama, Malala Yousafzai, and Elie Wiesel — has been awarded to Denis Mukwege and Nadia Murad, for their activist efforts against sexual violence.
Murad, a Yazidi woman from the northern Iraqi town of Sinjar, was held as a sex slave by ISIS, before becoming a U.N. Goodwill Ambassador for survivors of human trafficking at age 23. Murad is now the 17th woman to be granted the Nobel Peace Prize — and the second-youngest winner after Yousafzai. She, along with several other unmarried women, was abducted by ISIS in August 2014, taken as a sex slave, and passed around various militants, she told CNN last year. Her mother and brothers were executed.
"Nearly 6,500 women and children from the Yazidi were abducted and about 5,000 people from the community were killed during that day," she said. "For eight months, they separated us from our mothers and our sisters and our brothers, and some of them were killed and others disappeared."
Mukwege, a gynecologist and surgeon, has spent his career treating thousands of women and girls affected by rape and sexual violence in the Democratic Republic of Congo.
"Both laureates have made a crucial contribution to focusing attention on, and combating, such war crimes," Berit Reiss-Andersen, chair of the Norwegian Nobel Committee, said as she announced the award Friday in Oslo. "Denis Mukwege is the helper who has devoted his life to defending these victims. Nadia Murad is the witness who tells of the abuses perpetrated against herself and others."
Selected from a pool of 331 candidates — the second-highest ever — both winners were met with many congratulations. According to U.N. special envoy for Iraq, Ján Kubiš, Murad has shown "heroism, bravery and resilience in the face of her torturers and abusers." He added that the award was a tribute to all Yazidis and others who have suffered from the attacks of ISIS. Donald Tusk, the European Council president, said he has the "deepest respect" for both Murad and Mukwege, and the "courage, compassion and humanity they demonstrate in their daily fight."