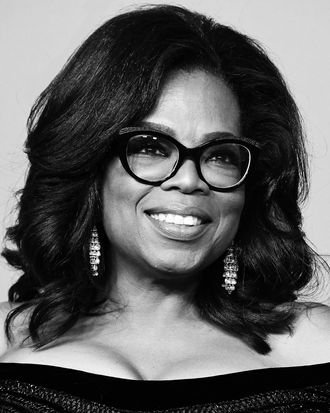 Oprah Winfrey.
Photo: Steve Granitz/WireImage/Getty Images
Save for national campaigns, Oprah Winfrey largely stays out of political races, but she'll make an exception for a historic one. In a last-minute push in Georgia's close gubernatorial race, Winfrey will head down south to knock on doors and hold town halls for Democratic candidate Stacey Abrams, who would be the first black woman governor in U.S. history, if elected.
While Winfrey endorsed Hillary Clinton in the 2016 presidential election and held a fundraiser for Cory Booker during his Senate run in 2013, the last time the media mogul hit the campaign trail for a political candidate was for Barack Obama in 2008. This year, both she and Obama will rally for Abrams, who says she is "honored" to have the support.
"Oprah Winfrey has inspired so many of us through the years with her unparalleled ability to form real connections and strengthen the bonds of family and community," Abrams said in a statement. "I am honored to have Oprah join me for uplifting and honest conversations with voters about the clear choice before us in this election and the boundless potential of Georgians."
Meanwhile, both President Trump and Vice-President Pence will stump for Abrams's opponent, Georgia Secretary of State Brian Kemp, a self-described "politically incorrect conservative." The race has been marred by allegations of intentional voter suppression, targeted at the state's black residents (Kemp is in charge of elections and voter registration in Georgia), but polls still show that the candidates are neck and neck.
Winfrey may not want to run for political office, but that doesn't mean she's unaware of the power of her voice — and the possibility that it could help influence the outcome of a historic race.