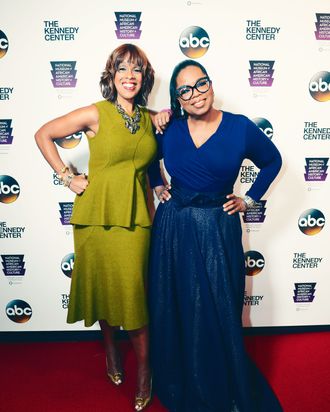 Gayle King and Oprah Winfrey.
Photo: Ida Mae Astute/ABC via Getty Images
In a new profile of Gayle King, the New York Times traces the CBS This Morning co-host's rise from being known mostly for her best friendship with Oprah Winfrey to becoming a powerful celebrity on her own terms. But of course, the profile still includes glimpses of Gayle and Oprah's legendary bond — and Oprah told reporter Amy Chozick how they got close.
It's known that Oprah and Gayle met in their early 20s when working for a TV station in Baltimore — Oprah was the anchor, Gayle was a production assistant. After a snowstorm hit, Oprah let Gayle — who was unable to get home due to the weather — crash at her house and borrow some clothes. per the Times:
They stayed up all night talking. The next day they went to a Casual Corner at the mall. Ms. King was blown away that Ms. Winfrey could afford two $19.99 sweaters.
In the new profile, Oprah told the Times that she and Gayle had different upbringings; Gayle grew up with a swimming pool and housekeeper in Turkey (where her dad worked for the U.S. government), while Oprah's teenage mom worked as a maid in rural Mississippi. But they still found common ground in their experiences with racism and being teased for sounding "white," as well as their shared dreams and pride in their heritage.
"We were two black girls who loved being black, who loved the experience of growing up black girls in America, and we felt our value system was very much the same — our dreams were the same," Ms. Winfrey told me.
Oprah added, "Both of us grew up as black girls striving to do better in our lives."
Very much playing the role of supportive friend (rather than the star) in the profile, Oprah went on to talk about being worried about Gayle's general lack of sleep, and of how not having jealousy or animosity between them has helped their friendship endure. (The profile also includes an interview with Gayle's friend and former co-host Charlie Rose, who was terminated amid sexual-misconduct allegations.)
Check out the full profile for more.