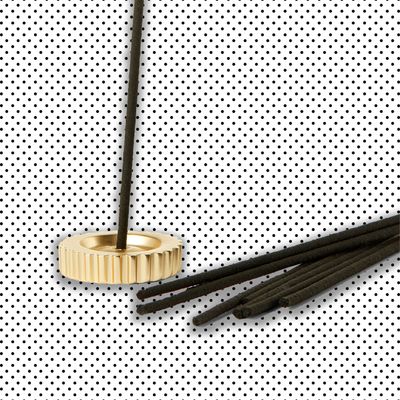 What if you like the way your hair products smell so much that you wish it could perfume your whole home? Despite hair and fire not being an ideal combination, Oribe is here for your very specific olfactory needs: They are launching their very own incense sticks (Can it be called Hair Incensed?).
Oribe is probably most well-known for its cult classic Dry Texturizing Spray, which builds volume and texture while absorbing oil, while doing it all fragrantly. While most hair products usually smell good, Oribe took things a step further and collaborated with Givaudan, an actual perfume house to create its signature scents. One of their most popular fragrances is called Côte d'Azur, and it has notes of Calabrian bergamot, Sicilian orange, tuberose, white butterfly jasmine (fancy), sandalwood, and amber.
To honor their signature scent, Oribe is launching this new incense set, which includes 50 Côte d'Azur scented sticks and a holder. The incense is allegedly handcrafted by artisans on the Japanese island of Awaji. Each stick has a burn time of 20 minutes, so you have over 16 hours of scented bliss awaiting you. And, once you run out, I'm sure a few spritzes of your favorite Oribe hair spray can hold you over.