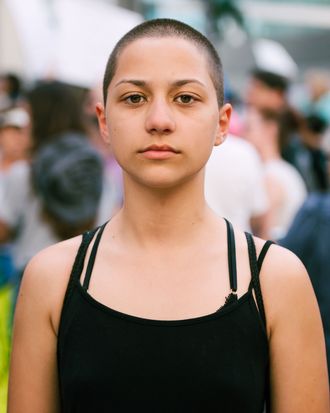 Emma Gonzalez.
Photo: SOPA Images/LightRocket via Getty Images
In a new interview with Variety, Emma Gonzalez discussed her activism in the wake of the Parkland school shooting, what it is like to be recognized, and her work getting people registered to vote across the country. She also elaborated on her shaved head — a style that she had to lobby her parents to accept.
She told Variety that she made a PowerPoint to convince her parents to let her shave her head, because they were initially unsupportive.
"My parents wouldn't let me shave it earlier, so I made a PowerPoint presentation to convince them," Gonzalez explained. "I strategically put pictures of bald women in there. My dad was laughing so hard the whole time he couldn't even pay attention."
She also explained that the style has absolutely nothing to do with her politics. The buzz cut is all about practicality. "It was too hot in Florida," she told Variety. "My hair was heavy. Any time I had my hair in a ponytail it would give me a headache by the end of the day. I was super self-conscious because I was worried it didn't always look perfect, and because of that I was thinking about it so much."
Gonzalez, like so many others, was also tired of dealing with bad-weather hair — and the self-doubt that came with it. "Insecurities are debilitating a lot of times," she explained. "If it was a windy day or a rainy day, which happens in Florida, I didn't want to worry about the fact that my hair was going to look less than I wanted it to."
An added bonus to the shaved style: consistency. "If I shaved it off it would always look good and always look the same — which is fantastic!"