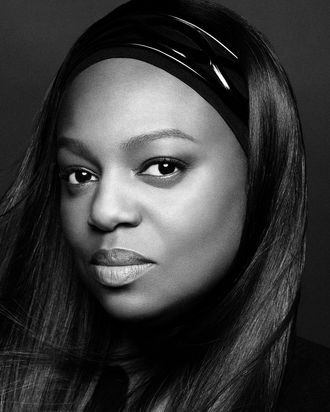 Pat McGrath.
Photo: Courtesy of Pat McGrath Labs
Next year's Met Gala is going to be the most fun, but here's something related to tide you over in the meantime: The museum just launched another limited-edition line with makeup artist Pat McGrath. Named the Adorned Collection, the new line is inspired by the jewelry and some 230 items featured in "Jewelry: The Body Transformed," a new exhibition opening at the Met on November 12.
"What is jewelry? Why do we wear it? What meanings does it carry?" the exhibit's description asks. McGrath, who helped launch the Met's first cosmetics range earlier this year is exploring the answers to such questions by creating decorative objects of beauty. She's created a number of special editions, including the Mothership V: Bronze Seduction Eye Palette, Lust: Gloss in Aliengelic, and Lust: Gloss in Blitz Gold. The packaging features eight objects from the Museum's collection integrated into Pat McGrath Labs' signature graphic punk collages.
But wait, there's more! Just like last time, the new Adorned Collection also includes some Pat McGrath merch in the form of a unisex tee in short-sleeve and long-sleeve. McGrath tells the Cut that the crystal image comes from a makeup trial for Margiela. "Everyone kept saying, 'I want to wear it.' People were getting on my nerves. 'Have you thought about putting it on a sweatshirt?' So I decided to try it," McGrath said of the decision to produce more apparel.
Head over to the Met Store or Pat McGrath's to get your hands on the makeup while you can, then watch this slightly unnerving video montage she posted on her Instagram while you wait for your items to ship.
Photo: PGSJNStart~:1013326?:PGSJNEnd!PGSCNStart~:E2018-B?:PGSCNEnd
Photo: PGSJNStart~:1013326?:PGSJNEnd!PGSCNStart~:E2018-B?:PGSCNEnd
If you buy something through our links, New York may earn an affiliate commission.