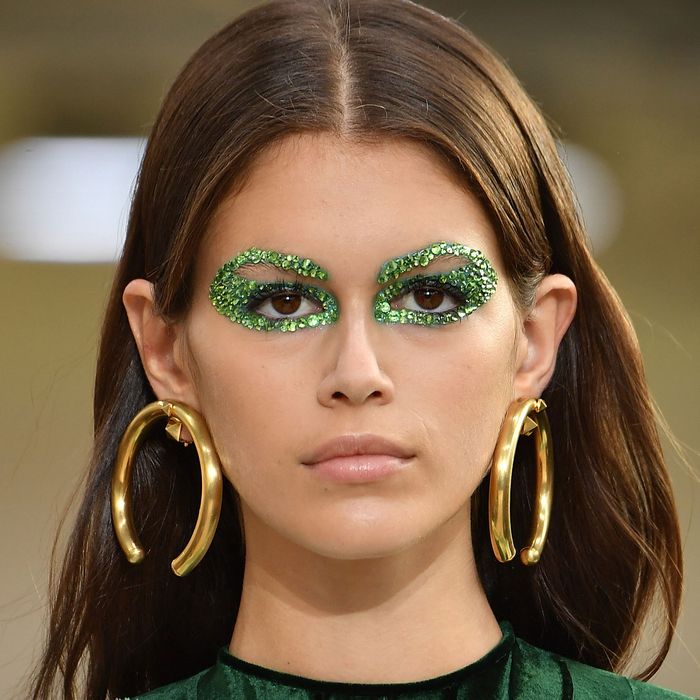 Photo: Pascal Le Segretain/Getty Images
Every Monday could use a little sparkle, and today's serving comes to us from Valentino's spring 2019 show at Paris Fashion Week. While the majority of models wore "no-makeup makeup" looks down the runway (with clear lip balm and blush), a select several got to wear a bunch of hand-applied Swarovski crystals.
One look featured a sparkly take on eyeliner created by mother Pat McGrath, who custom mixed lilac, magenta, and minty blue shades. McGrath described her creation as "EXTRAVAGANT BEAUTY" in a recent Instagram post.
It fits with my personal descriptor of "high-fashion super hero with excellent taste who doesn't particularly care if you can still recognize them or not." Which is fine; Robin, Green Lantern, and their tiny masks clearly didn't care either. This self-assurance is perfectly in line with the notions of confidence and luxury McGrath saw in Pierpaolo Piccoli's latest collection.
Kaia Gerber (above) wore one of McGrath's most intricate versions of the crystal eyeliner mask, which I personally love for both its aesthetics and its utilitarianism. The extension of the crystals into the eyebrows, creating fancy brow liner, make this look an excellent fallback option, should the impending skinny brow takeover play out.
Still, if sunglasses are more your speed for disguising purposes, McGrath also has you covered there. Backstage, she created another equally glittery look focused on the lips by breaking out her famed Lust 004 glitter lip kit and applying crystals over her MatteTrance Lipstick in the shades "Extravaganza" and "Forbidden Love." Considering the kit's combined popularity and exclusivity, however, you'll probably have better luck gathering your own Swarovski crystals and downloading Kirakira+ to DIY this look.