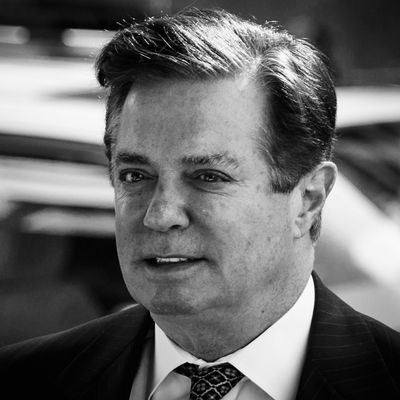 Paul Manafort.
Photo: MANDEL NGAN/AFP/Getty Images
Paul Manafort's request to wear suits during his trial for 18 charges of bank and tax fraud has been denied by a Virginia judge. Talking Points Memo published the entire denial to the motion that Manafort filed to wear a suit to his upcoming hearing on October 19, which showed that he will be forced to wear his prison uniform.
The judge's decision is based off the fact that Manafort is a post-conviction defendant. "Defendants who are in custody post-conviction are, as a matter of course, not entitled to appear for sentencing or any other hearing in street clothing," read the ruling. "This defendant should be treated no differently from other defendants who are in custody post-conviction."
Judge T. S. Ellis's ruling included not just his October 19 hearing, but all of Manafort's scheduled appearances for the duration of his trial. The ruling seems especially pointed, considering that Manafort spent $1.26 million of the $18 million he allegedly laundered on clothing over the period of a few years.
Guess this means that lackluster $15,000 ostrich jacket won't get to be worn again, which is a real shame.