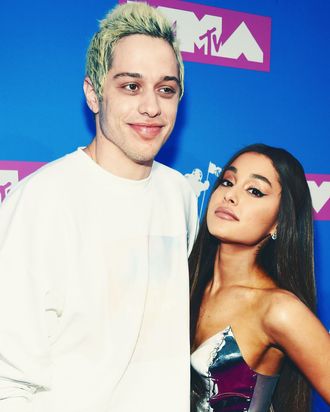 Pete Davidson and Ariana Grande.
Photo: Kevin Mazur/WireImage
Four months after kicking off the summer of young celebrity love, Pete Davidson, 24, and Ariana Grande, 25, reportedly called off their engagement and broke up over the weekend — or perhaps even the weekend before. Although the source did mention the possibility of two 20-somethings getting back together in the future, as they're apparently still in love, this split can't help but feel like the end of an era — one that was defined by couples tattoos, public make outs, and PDA-filled Instagram posts.
Davidson and Grande's engagement — which came less than a month after they started dated — was extremely intense and replete with countless moments where the two were seemingly overwhelmed with their love for one another. However, a source told TMZ that now was not an ideal time for their relationship to progress.
Below, amid reports of their split, the Cut looks back on Davidson and Grande's engagement, before they flew too close to young love's hot flame.
June 11: Us Weekly breaks the news that Davidson and Grande are engaged
The exact date that Davidson popped the big question is still unclear. Davidson's $93,000 engagement ring, however, offers up some clues. According to TMZ, it took jeweler Mr. Flawless nearly two weeks to finish the VVS1 clarity diamond, in platinum, and Davidson picked up his purchase in May — the month that Grande split with Mac Miller and Davidson split with Cazzie David, and also the month that Grande and Davidson reportedly started dating.
In August, the Saturday Night Live comedian told GQ that he wanted to marry Grande the very day he met her — something he wasn't afraid to admit to her.
"The day I met her, I was like, 'Hey, I'll marry you tomorrow,'" Davidson told GQ. "She was calling my bluff. I sent her a picture [of engagement rings]. I was like, 'Do you like any of these?' She was like, 'Those are my favorite ones,' and I was like, 'Sick.'"
June 19: They get tattoos together
While Davidson had already gotten two tattoos inspired by Grande earlier in the month, less than a week after news of their engagement broke, the couple appears to have visited the same tattoo parlor, where Grande got "H2GKMO" on her hand (in honor of her favorite phrase, "Honest to God knock me out") and Davidson got "REBORN."
June 21: Davidson confirms the engagement
On Jimmy Fallon, the host joked to Davidson that he "didn't have to get engaged to Ariana Grande to come on our show, " to which Davidson replied, "But I did though." He then described his engagement as "fucking lit" and like "[winning] the lottery."
June 27: They karaoke Evanescence for Grande's 25th birthday
"Wake Me Up" — a timeless banger.
July 1: Grande gets tattoo for Davidson's late father
Tiny-tattoo evangelist Ariana Grande added onto her collection the numbers "8418," which was the firefighter badge number of Davidson's dad, who died during 9/11.
July 5: Grande responds to one of Davidson's tasteless jokes
For the first time in two months last two months, there appeared o be trouble Gravidson paradise. Before the couple had started dating, Pete Davidson made a joke about the Manchester Arena bombing at Ariana Grande's concert last May, which resurfaced in early July.
Apparently, Davidson delivered a line during a stand-up set in which he suggested that the bombing made Grande realize how famous she was, because "Britney Spears didn't have a terrorist attack at her concert." After getting an onslaught of concerned messages from fans, asking Grande how she could stay with Davidson, she responded to the incident on Twitter.
"this has been v tough & conflicting on my heart," she tweeted. "he uses comedy to help ppl feel better ab how f-ed up things in this world are. we all deal w trauma differently. I of course didn't find it funny. it was months ago & his intention wasn't/ is never malicious but it was unfortunate."
August 17: Grande gushes over Davidson in Sweetener
In "Pete Davidson," the pop singer's aptly named song off her album Sweetener, Grande sings to her fiancé that her "whole life got [her] ready for you."
"I thought you into my life, whoa," Grande sings. "No better place or a time, look how they align, universe must have my back, fell from the sky into my lap, and I know you know you're my soulmate and all that."
August 20: They spend the VMAs making out
Grande and Davidson couldn't keep their hands off each other at the MTV Video Music Awards, where they gazed lovingly into each other's eyes and shamelessly made out in front of the camera.
September 4: They make out over pasta
Davidson and Grande had a real-life Lady and the Tramp moment at Carbone in the West Village, where the comedian at one point conveniently adjusted his seat so he could kiss Grande more freely. According a source who spoke to People, the two "were just making out over pasta all night."
September 16: Grande adopts an untraditional pet
Not a cat, nor a dog, nor a fish, but a pig — a micro pig that she later reveals is named Piggy Smallz. (It is unclear whether the pig is just Grande's or the couple's, as well as who will take ownership of the pig amid the rumored breakup.)
September 18: Davidson gets permanent tribute to the micro pig on his body
Yup — Davidson, a man who clearly loves to make impulsive decisions about body art, got a tattoo of Piggy Smallz from the Brooklyn-based artist @girlknewyork.
September 30: Davidson opens up about his relationship on Saturday Night Live and makes a gross joke about Grande's birth control
During the Weekend Update segment, Colin Jost asked Davidson, "So you got engaged to Ariana Grande this summer?" to which Davidson responded, "Yeah, I did, I got engaged, and no one could believe it."
He continued: "I can't believe it and I get it. She's the No. 1 pop star in the world and I'm that guy from SNL that everyone thinks is in desperate need of more blood."
In the same segment, Davidson joked that he had switched Grande's birth control pills with Tic Tacs to force her to stay with him, saying, "I believe in us and all, but I just want to make sure that she can't go anywhere." The line was immediately met with audibly disapproving noises from the audience, and the comedian has faced criticism for his joke in poor taste.
October 9: "Page Six" notices that Davidson has covered up one of his Grande-inspired tattoos
Just last week, the publication noticed that Davidson covered up his Dangerous Woman–inspired tattoo, turning the bunny ears into a large black heart with an "A" next to it. At the time, a source close to the couple told "Page Six" that the couple's relationship was still as strong as ever. Alas.
October 14: The breakup
While TMZ did not reveal any reasons behind the breakup, the source did suggest that there was an issue with timing. (Over the past few weeks, Grande has not had an easy time healing from the sudden loss of her ex-boyfriend and close friend Mac Miller.)
But according to Page Six, the couple didn't break up this past weekend — they ended things the week before.
"There was word they'd broken up," an insider told Page Six, claiming that the couple tried to keep the split under wraps. "They were Instagramming [Stories] together in bed, and she was backstage at SNL."