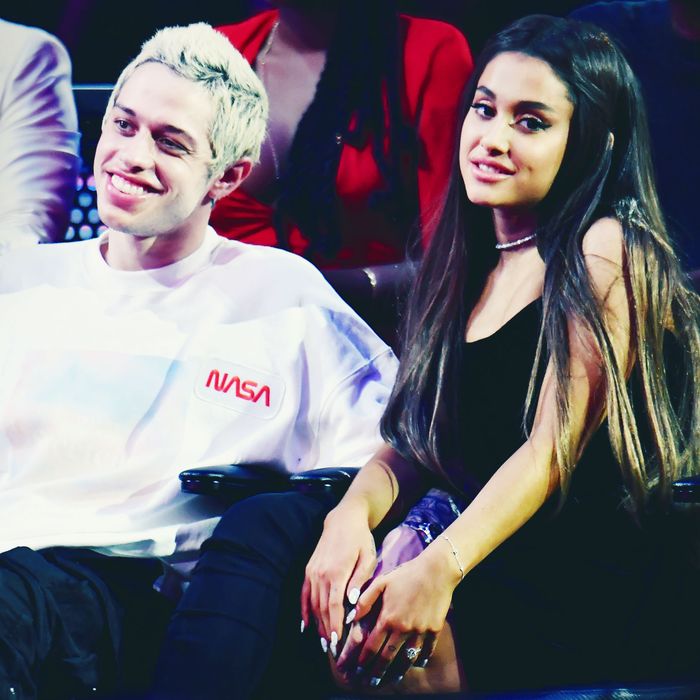 Pete Davidson and Ariana Grande.
Photo: Jeff Kravitz/FilmMagic/Getty Images
This weekend, Ariana Grande and Pete Davidson ended their four-month-long betrothal, thus officially marking the end of the Summer of Celebrity Engagements. Their split raises a lot of questions like, "Is young, passionate love always destined to fail?" "Who will get to keep all of their oversize NASA shirts?" and "What will happen to Grande's $93,000 (!) engagement ring?"
The answer to that last question depends on Davidson. Grande was reportedly quick to give the ring — a custom, pear-shaped diamond designed by New York City jeweler Greg Yuna that weighs in at over three carats — back to him. Which is just as well, since under New York State law, an engagement ring is considered a "conditional gift" — when a "Will you marry me?" is followed by a "Yes," the diamonds are considered a contract. If the engagement is called off, that contract is breached, and the diamond goes back to the person who purchased it.
Should Davidson choose to resell it, he can expect to take a 30 to 50 percent loss on the initial price of the ring, Mark Kandinov of the New York City jewelry-buying company Luriya told the Cut.
The wholesale price, or true value, of a diamond doesn't change much over time, Kandinov explained. "A diamond is a diamond," he said. "It's a carbon structure, it's not going to change." An individual stone's value is based on a number of factors, including its size, clarity, color, shape, and cut. Davidson's ring, Yuna told E!, has a VVS1 clarity, or "very very slightly included," which means the only way to see the stone's internal imperfections would be under a microscope. The only higher ranking of clarity for diamonds is IF or "internally flawless." In other words, if the $93,000 price tag didn't already tip you off to this, it is a very, very nice ring.
But while the wholesale value of a stone may not change, what a customer loses as soon as they buy the ring and leave the store is the markup cost. This would be higher at brand-name stores like Tiffany or Harry Winston, and lower at a small, local store.
Although Kandinov says he can't be entirely sure about the value of Davidson's stone without knowing details like its exact color and cut, he said the comedian could probably expect to sell it for a wholesale price of $50,000 to $70,000 — a loss of $20,000 to $40,000. Ouch.
And, salt in the wound, GoFundMe has taken down a page started by a fan to raise money for the "homeless" Davidson now that he'll be moving out of the $16 million apartment Grande purchased for them.
Young love is so expensive.